Have you ever been driving down the freeway and you can't help but notice that the back end of one of the cars in front of you is swaying back and forth or up and down like a salsa dancer?
Most people never give a second thought to the shocks or struts on their vehicles, and that's understandable. When you consider that these important parts can last as long as 100,000 miles, they are easy to forget.
That 100K, by the way, is only an estimate. You might need to replacement them as early as 50,000 miles, depending on your driving habits, the amount of weight you carry, and even the manufacturer's original equipment (some shocks/struts are better made than others).
How do you know when you need new shocks or struts?
First, here a quick lesson about what shocks and struts are, as well as the difference between them.
Shocks and Struts 101
In many cases, you will have struts on the front and shocks on the rear of your car or SUV. This isn't always true, though. Some cars and light trucks have struts on all four wheels or even shocks all the way around, but chances are that you have two of each.
Struts are a crucial part of your steering and suspension system. While they do act like shock absorbers, they are vital when it comes to the car's wheel alignment and they help keep the tires firmly planted on the road.
Shock absorbers, commonly just called shocks, do what their name implies: They absorb the bounce and "shock" of the road. You feel far less of the dips, bumps, potholes and speed bumps, which enables you to maintain control of the vehicle.
How do you know if your car has shocks or struts? Your owner's manual will tell you, or you can get down and look under the wheels. An easy way to tell is struts have a spring around the top, shocks do not. If in doubt, you can ask a qualified technician, such as a member of the team here at My Mechanic.
How do you know that these important parts need to be replaced other than by mileage? Here are 5 signs that your shocks or struts are worn out…
Sign #1: The Shocks or Struts are Leaking
All it takes is a flashlight to discover this tell-tale sign. If you see what looks like dirty oil on the struts or shocks or if the whole area just looks wet (when it isn't raining), it's probably time to replace them.
These parts tend to get really dirty so it can be difficult to tell if you don't have experience in this area. This is where having a trustworthy repair technician, such as those at My Mechanic, comes in handy. Some unscrupulous repair shops will squirt a little oil on your struts, show this to you and say that they are leaking. You can always be present when they are inspecting your vehicle, or you can take the word of a mechanic that you know and trust.
Sign #2: You Are Feeling the Road
By this we mean that when you hit a speed bump, the back end of your car dips so hard that you can hear it scraping the bottom. Or when you hit a pothole, you feel as if you are going to lose control of the car. You might also notice that the front end dips way down when you brake a bit harder than normal.
Another sign is that you feel the car leaning or drifting when you make a turn. This is a sure-sign that those struts or shocks are at or near the end of their useful life.
Sign #3: Give Your Car the Bounce Test
You can do an old-fashioned test to see if your vehicle passes it or not. Park your car on a flat surface and you can give the bumper a good shove downwards. It should bounce up once, then return to its usual position. If it bounces more than once or it shakes side to side, those struts or shocks are goners.
If you aren't strong enough to press down on the bumper, you can try taking one foot and step up on the bumper with your weight, then step off. Be careful that you don't lose your balance!
Sign #4: Your Car is Doing the Shake, Rattle, and Roll
Sometimes tires that are worn out or out of balance can make your steering wheel shake a certain speeds. Other times, this shaking means that struts are worn out. If it feels as through your vehicle is swaying from side to side at higher speeds—especially the back end—at higher speeds, this is almost always because of worn out shocks.
The same is true with rattling or banging noises. Shocks and struts use rubber parts called bushings that keep them tightly in place. When these parts wear out, the shock itself becomes loose and makes a strange rattling noise.
Sign #5: Unusual Tire Wear
If your front tires are wearing out in a strange pattern, such as the inside or outside portion is nearly bald, but the rest of the tire looks good and your vehicle has 50,000 miles or more on the odometer, chances are the front struts are worn out.
While unusual wear on tires is typically due to an alignment problem, struts with this much mileage have generally lost their ability to "hold" a proper alignment. Remember that struts are a vital part of the front suspension, which means that in order to keep that front end in alignment, the struts need to be in good shape.
Shocks and Struts Shot? What to do Next

If you see any of the above signs, if your vehicle has 50K or more on the odometer, or if you just aren't sure about whether or not you need new shocks or struts, trust the qualified professionals at My Mechanic. Our friendly team of experts will be happy to check your struts, shocks, front suspension and alignment. We will give you a repair estimate for any work that is necessary and won't "pad" your bill with unnecessary expenses.
My Mechanic has a solid reputation for quality work and integrity that you can rely on mile after mile. Whether your vehicle needs maintenance, new struts or shocks, or you simply have a question about your car, our professionals will be happy to give you and your car the courtesy and attention you deserve.
Call us today for an appointment or schedule your appointment online. You and your vehicle will be happy you did.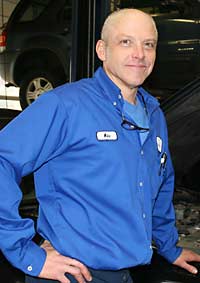 Mike is the owner and founder of My Mechanic. He is an ASE-Certified Master Technician with an L1 Advanced Engine Performance Specialist certification. Find out how Mike got started in the auto repair business on our About Us page.
Videos
1. How to Tell Shocks and Struts Are Worn – Guide to Test Signs and Symptoms
2. Avoid These Struts at All Costs
3. Good Shocks Vs Bad Shocks : 5 Ways To Tell
4. AutoZone Car Care: When to Replace Car Shocks and Car Struts
5. Shock Talk – Simple Differences Between Shocks, Struts, and Coilovers