Finding a good online game is definitely a fun way to bond with friends. Here are some of the best online PC games that you can play with friends.
Gone are the days where you needed to be close to your friends if you wanted to play a game together. LAN cables and other data cables were essential for multiplayer during the early days of gaming.
Nowadays, online gaming has become the norm. Most competitive games are played over the internet, and you can play with your friends or with random people. You just need to install the game, connect to the internet, start a lobby, and invite your friends.
There are thousands of multiplayer games to choose from, but we will help you narrow down that list. Here are our picks for the best PC games to play with friends
10 Free Games10 Paid Games
5 Online Browser Games
10 Best FREE PC games to play with friends
You don't need to spend money to have fun with your friends. There are numerous free-to-play games out there that offer endless hours of fun. These are some of the Best Free Online PC games to play with friends.
1
Valorant
Valorant is currently one of the best FPS games in the market. It mixes accurate and precise gunplay with different agent abilities that create a chaotic but fun gameplay experience. It's played with two teams of 5, with each team getting the chance to be the attacker and the defender.
You can play Valorant as a pre-made group of 5, or you can even create custom lobbies and play a full 5 vs. 5 with your friends. It's a good competitive game that's easy to learn and can run on low-end devices. Don't forget to find the best Valorant crosshair settings for you, to help you aim better.
2
League of Legends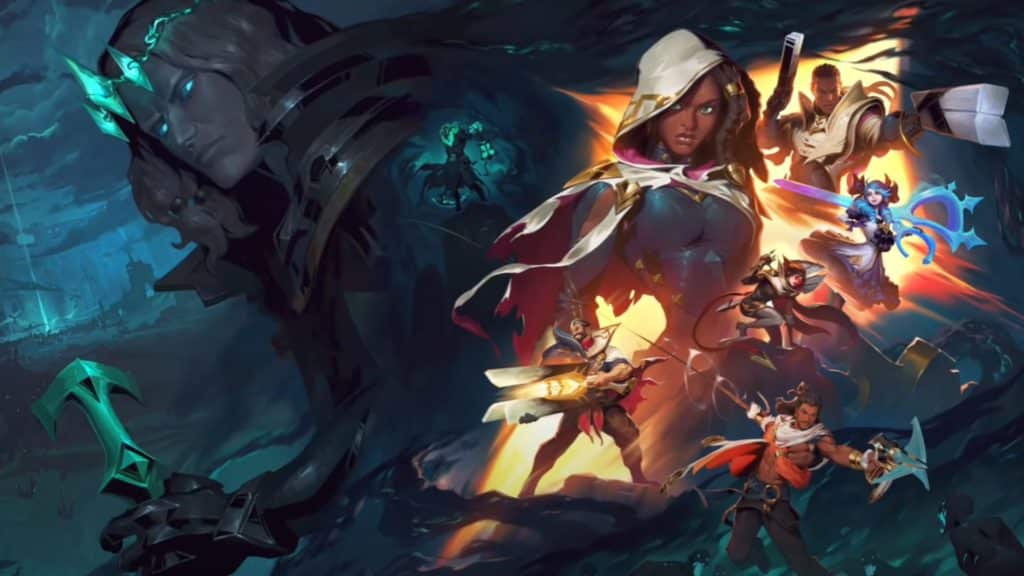 League of Legends or LoL is one of the most popular MOBA games and esports games in the world today. LoL currently has more than 157 different champions, each with unique skills and abilities.
There are different queues like Solo/Duo queue and Flex queue for playing alone or with some friends. You can also play normal games if you just casually want to play the game. LoL does have a steeper learning curve than other games on this list, so be prepared for a challenge.
3
Fortnite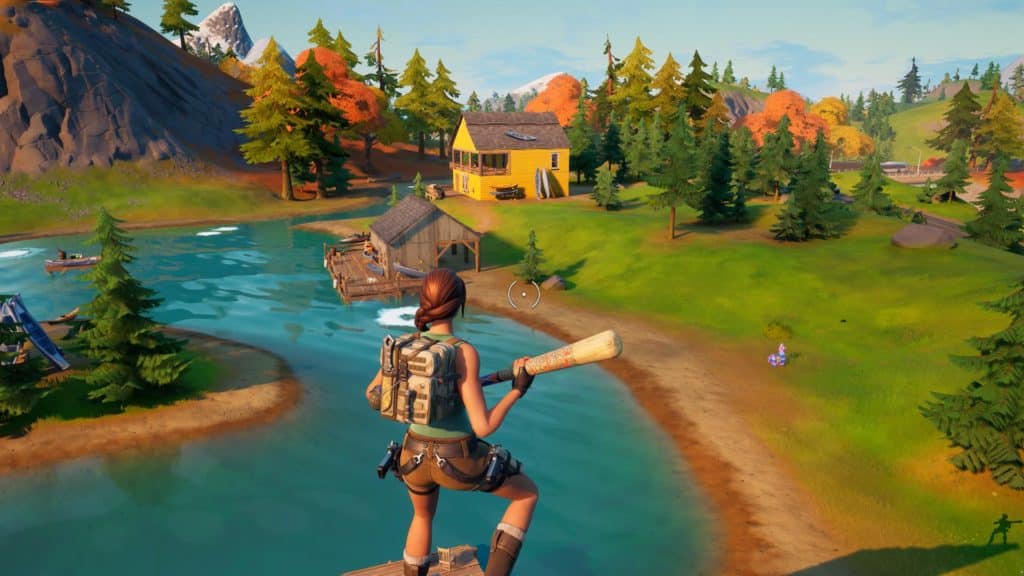 Fortnite is a battle royale game mixed with the ability to build different structures. It became the most popular game in 2018, completely dominating the streaming industry. Nowadays, it is still a top game and is most popular with children.
You can team up with up to three friends and battle it out to become the last squad remaining. Make sure to pick out a sweaty Fortnite name and try hard against your opponents.
4
Dauntless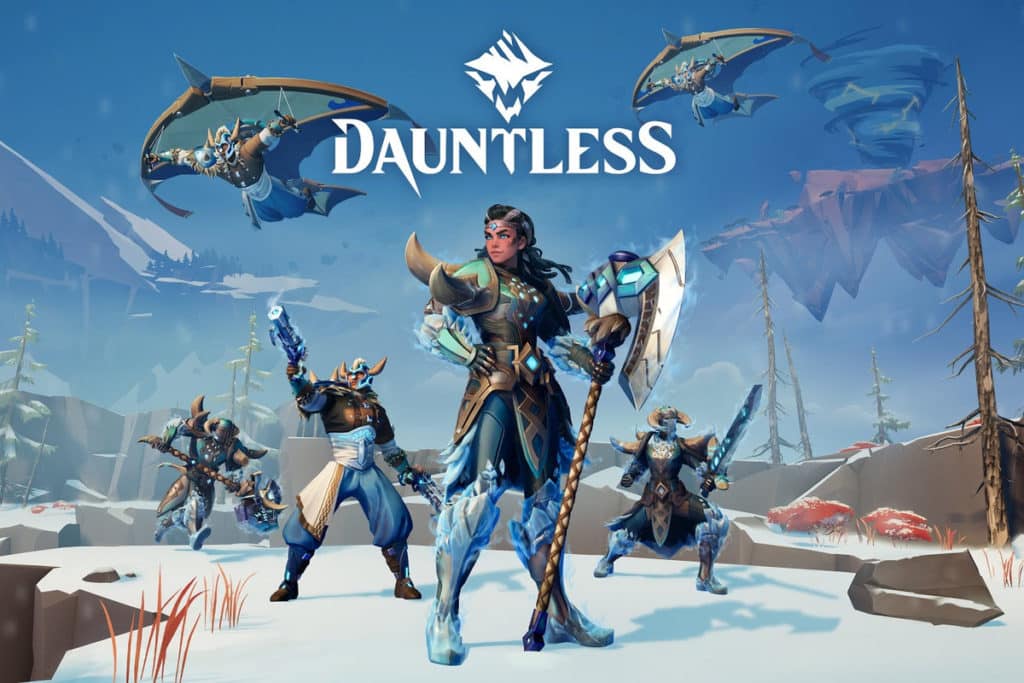 Dauntless is a monster-hunting RPG game. It's an online co-op game where you work as a team to hunt strong creatures called Behemoths. These creatures get stronger the farther you progress in the game, so be ready for a challenge.
If you like Monster Hunter, you're going to love this!
The game offers different weapon types and armor sets that you can fully customize according to your preference. You can pick from the 7 different weapons and find one that suits your playstyle.
5
Brawlhalla
Are you and your friends a fan of fighting games? Brawlhalla might be the game for you. It's a chaotic fighting game similar to the massively popular Super Smash Bros. games. Brawlhalla supports up to 8 local or online players.
Choose from over 50 different legends, each with unique fighting styles and abilities. Brawlhalla offers offline and online modes, allowing you to play with your friends locally or online. It's also a kid-friendly game, making it great for players of all ages.
6
Yu-Gi-Oh! Duel Links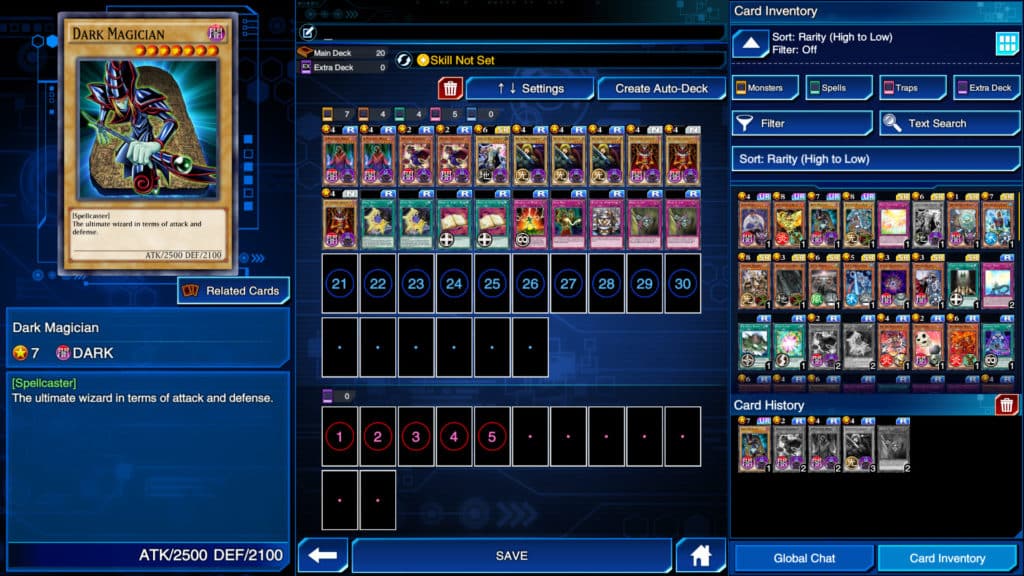 Yu-Gi-Oh! is a classic trading card game that came from a gaming manga series. It's one of the highest-grossing media franchises of all time, along with other Japanese franchises like Pokémon and Hello Kitty.
It's a fun dueling card game where you summon monsters, set up traps, and use spells against your opponents. Your main goal is to bring your opponent's LP to 0. Yu-Gi-Oh! is a great game to play with friends because you can challenge each other, build different decks, and trade your cards.
7
Apex Legends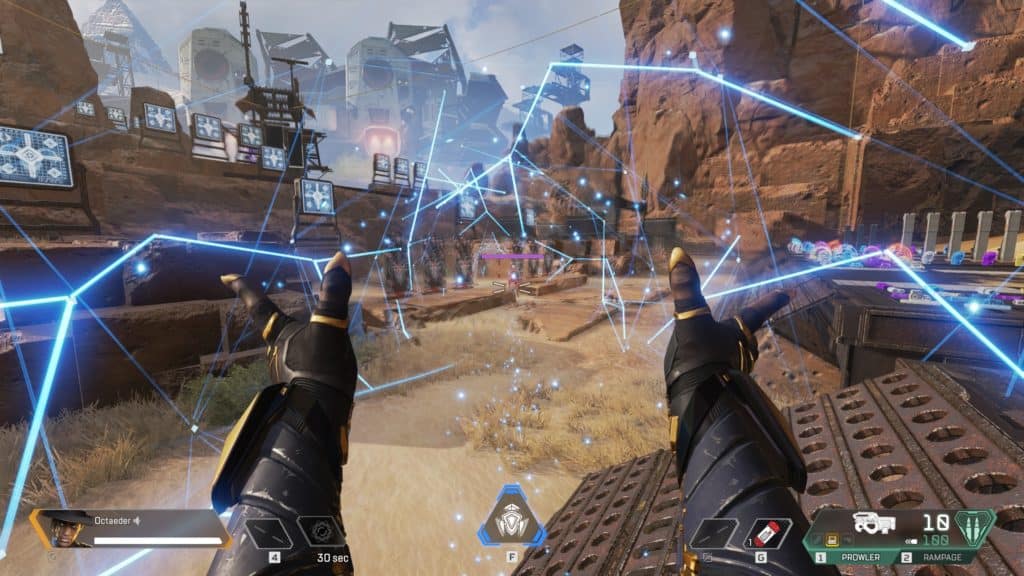 Apex Legends is Electronic Arts and Respawn Entertainment's take on a battle royale game. It follows the standard battle royale mechanics, aside from its 3-player squad teams. Apex also offers an Arena mode where it provides some tactical shooter-like gameplay.
It's another great shooter game that offers a fast and intense gameplay experience that's great for competitive people. Unfortunately, you can only team up with 2 other friends. If you have a large group of friends, it might be hard for you to play Apex Legends.
8
Splitgate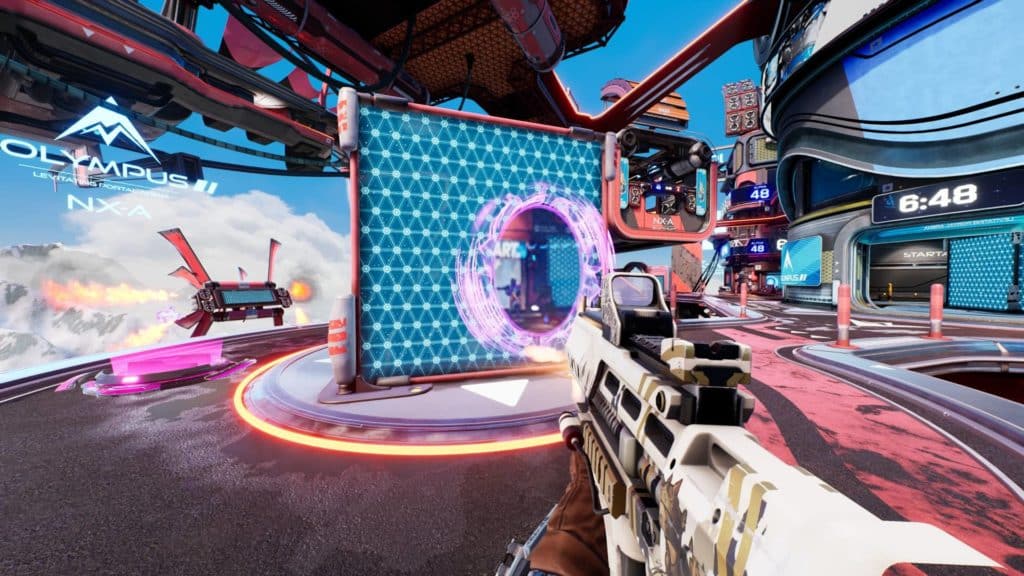 Splitgate is a newly released FPS game that combines the crazy teleporting mechanic of Portal and the fast-paced combat of Halo. It's a multiplayer game filled with gravity-defying stunts that makes it chaotic but fun.
There are over 11 arenas that you can play on with tons of game modes to choose from. There's something for everyone, from team deathmatch, ranked, and crazy game modes like King of The Hill and VIP.
9
Warframe
Warframe combines a ton of different game elements to create an unorthodox but fun gameplay experience.It has mechanics from looters and shooters games while being a space ninja MMORPG.
It can be quite overwhelming for new players to start Warframe, but it's a fun and rewarding game if you can get through the early stages. It's definitely a fun game to play with friends, and you can explore the different environments found in the game.
10
Destiny 2
Destiny 2 is an FPS online game that allows players to use weapons and special abilities to defeat enemies. It started off as a paid game but was eventually released as a free-to-play game in late 2019.
It has a good campaign that you can enjoy more if you team up with friends. You can choose from different classes and sub-classes that each offer a unique gameplay style. There's also an available PvP mode where you can match up with other players.
10 Best PAID PC Games to play with friends
Even though there are many great free-to-play games out there, there is much more hiding behind a paywall. If you and your friends are willing to spend a little bit of money, there are plenty of excellent games you can play.
1
Dead by Daylight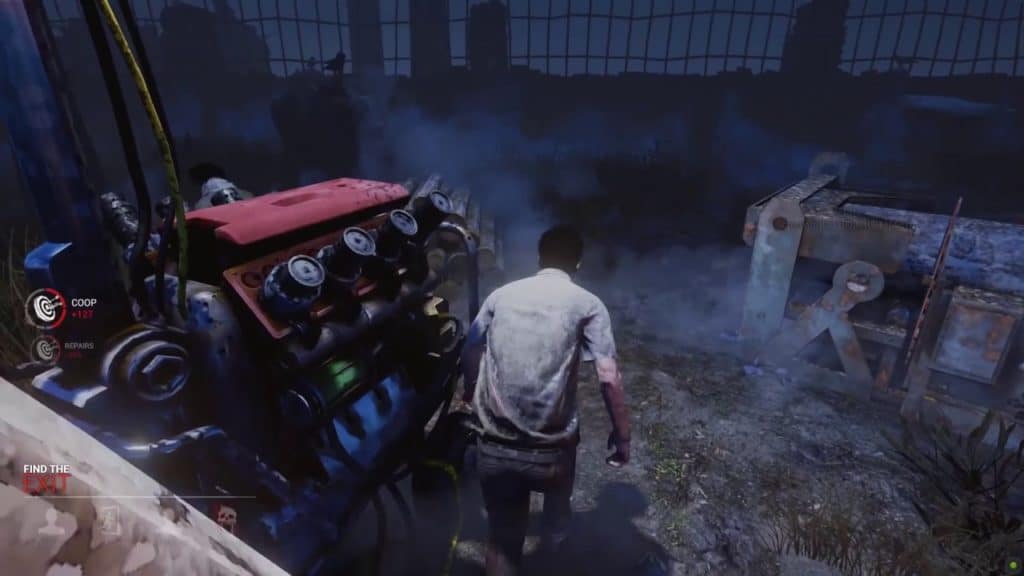 Dead by Daylight is a survival-type horror game played in a 4v1 environment. Four survivors try to escape the killer and fight back by stunning him and blinding him using flashlights. The game ends if the killer can sacrifice the survivors to the "Entity" or the survivors fix the generators and exit the area.
It's a fun and thrilling game to play with friends, primarily because of its unpredictable nature. Dead by Daylight is very fun if you and your friends can hop on a Discord server and hear the panic and nervousness in each other's voices.
2
Overcooked 2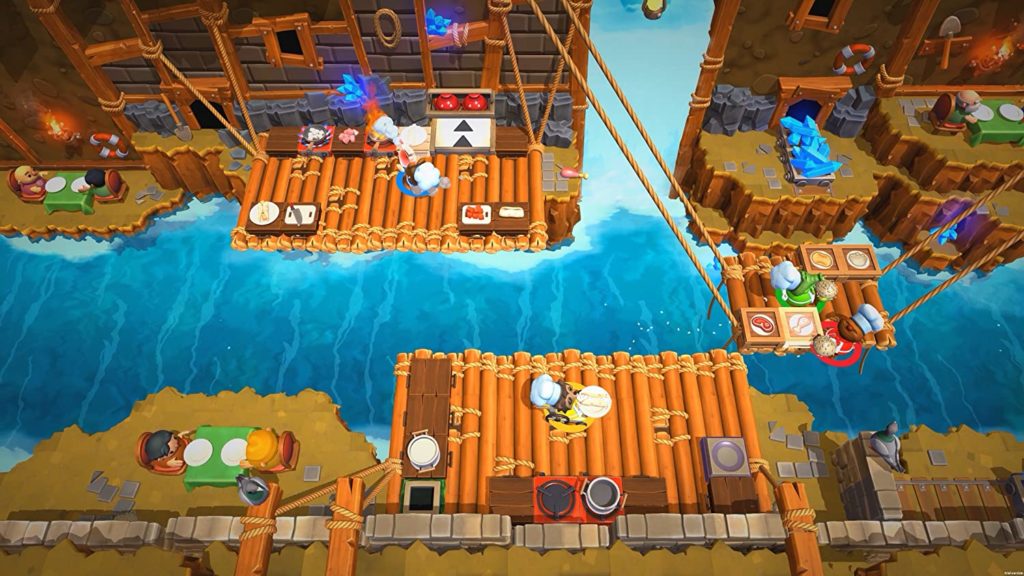 The Overcooked franchise is an excellent co-op game to play with friends. It has a simple premise, prepare the food and serve it before the timer runs out. This simple mechanic brings some pretty chaotic gameplay that can cause some arguments between friends.
It's an excellent and casual game that doesn't require hours of learning the game and its mechanics.
3
Stardew Valley
Harvest Moon is considered one of the best farming game franchises in the world. It was a heavy inspiration for Stardew Valley, and the creators added many improvements to the game.
Stardew Valley is another great casual game to play with friends if you just want to chill. Stardew Valley added multiplayer support in one of its updates. You can play with up to 3 other players on a single farm.
4
Rocket League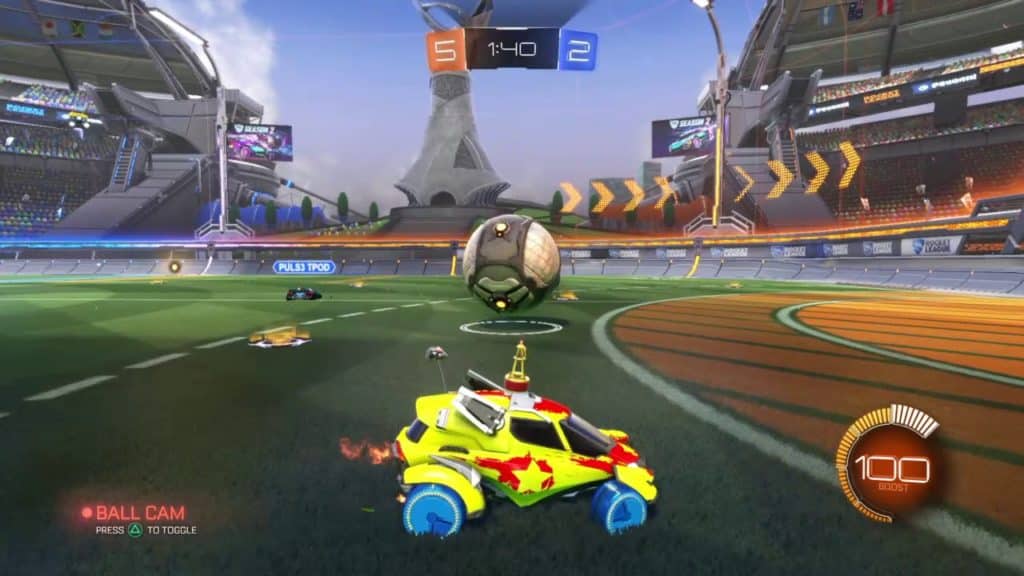 Ever wonder what would happen if soccer and cars were combined and made into a game? Well, Rocket League is exactly that game. The idea is definitely crazy, but it somehow works. Each game is full of mayhem and chaos that is truly enjoyable even to casual players.
Unfortunately, Rocket League does have a pretty steep learning curve. But, you can play and learn the game with your friends through custom games or online matches. It's enjoyable, even if you aren't a fan of soccer or cars.
5
Fall Guys: Ultimate Knockout
Fall Guys was a surprisingly massive hit when it was released. It's a unique and cartoony take on a battle royale game. It's a very quirky and amusing game that uses different obstacles and courses to determine the winner of the game.
Players control jellybean-like characters with silly skins like wooly mammoths, dinosaurs, and ninjas in this game. It's a relaxing yet competitive game to play with friends, and you'll definitely get a laugh or two.
6
Among Us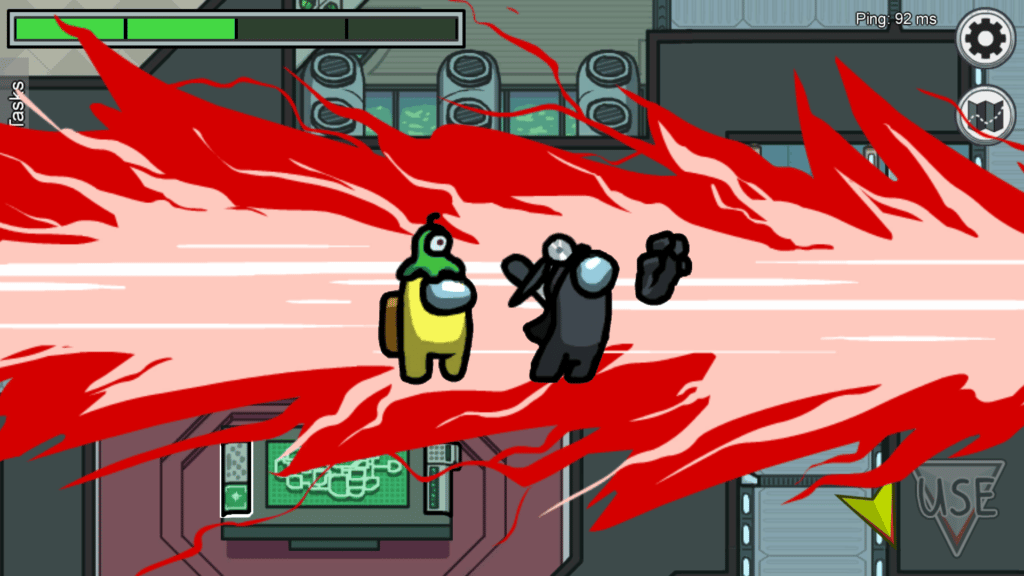 Among Us is a game similar to social deduction games like Werewolf, Spyfall, and Mafia. It was actually released back in 2018, but it had a massive spike in popularity in 2020. A lot of streamers enjoyed playing the game during the pandemic because of its highly social nature.
It's a fun game to play with friends, and it's also very cheap, making it accessible to almost everyone. Playing while on a call with your friends definitely improves the gameplay experience. Some people have even set up a proximity chat to further enhance the game.
7
GTA V
GTA V is a game that's been in the market for years now. It's a game that's highly rated and offers hours of endless fun. You can explore the map with your friends or even try some of the role-playing servers. Either way, GTA V is a fun game to play with friends and allows you to cause a lot of mayhem and chaos.
It's one of the more expensive items on this list, but it does usually go on sale, so you and your friends might be able to get a good discount.
8
Valheim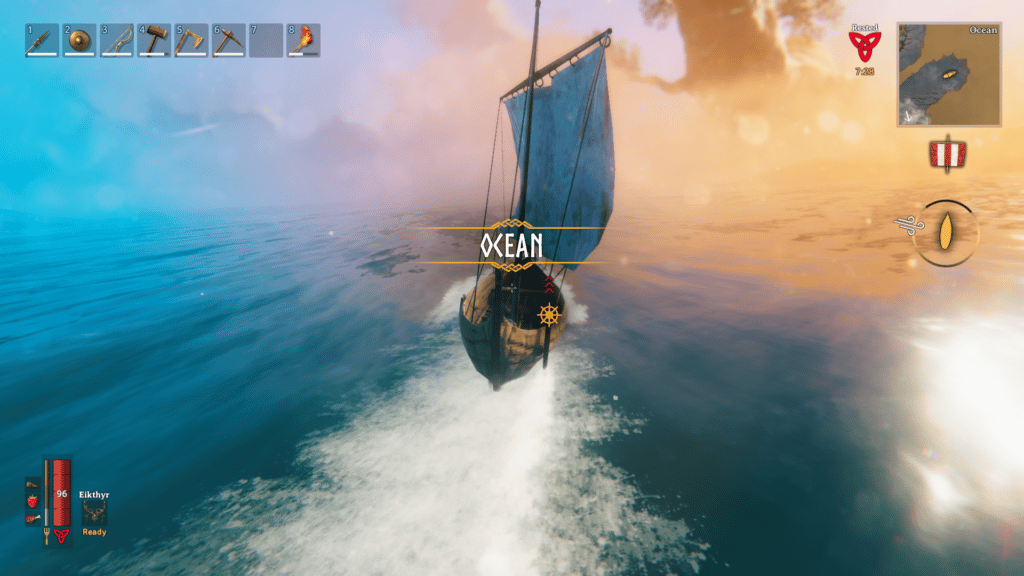 Valheim is a Viking-inspired open-world survival game. It's set in a procedurally generated environment where you can build bases and battle enemies to survive.
The co-op environment supports up to 10 players and provides some challenging bosses to team up against. Valheim also has some relatively low system requirements, and most gaming PCs can handle the game.
9
Minecraft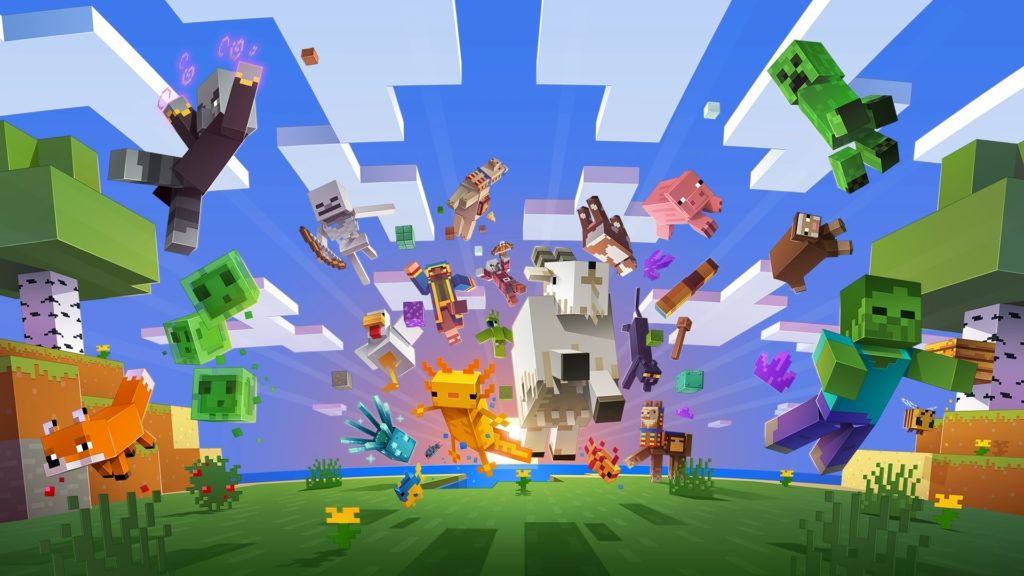 Minecraft is a timeless game that's popular for people of all ages. It allows players to explore its infinitely generated world while crafting items to survive. You can build your own home with your friends and discover new places.
It's a good and relaxing game where you and your friends can relax and just build your own homes and bases. Additionally, it's a very easy game to run, making it suitable for low-end machines.
10
Jackbox Party Pack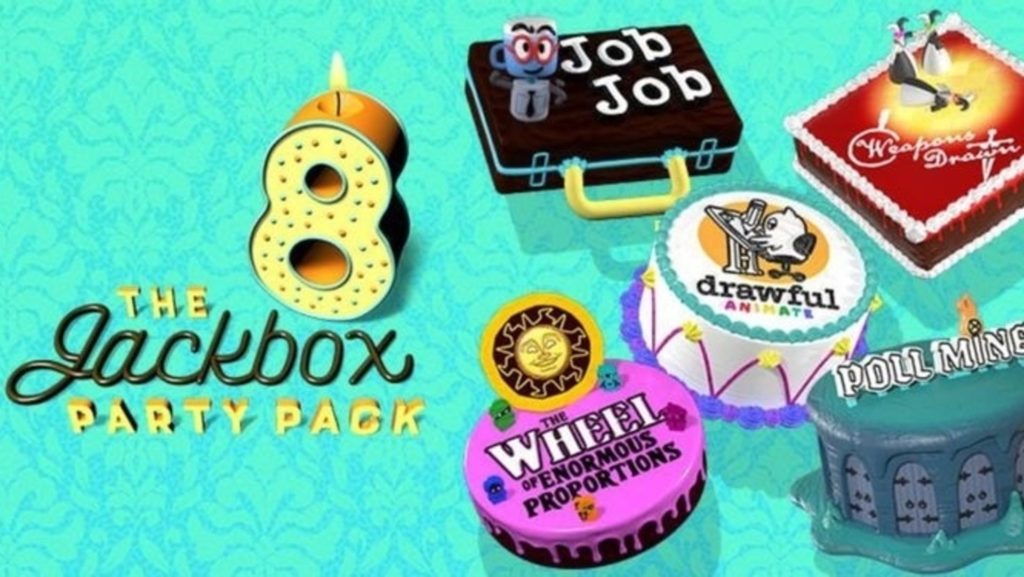 The Jackbox Party Pack is a collection of different party games bundled in a single game. It usually only requires one player to own and host the game. Everyone else uses their phones to join and participate in the game.
There are currently 8 Jackbox Party Packs, each available for around $25 to $30. Each pack contains 5 different mini-games, most supporting up to 8 and sometimes even more players.
5 Best Browser PC Games to play with friends
Browser games are great because they don't require you and your friends to install any additional applications. They also don't require too much PC power, making them great for low-end laptops or desktops alike.
1
Skribbl.io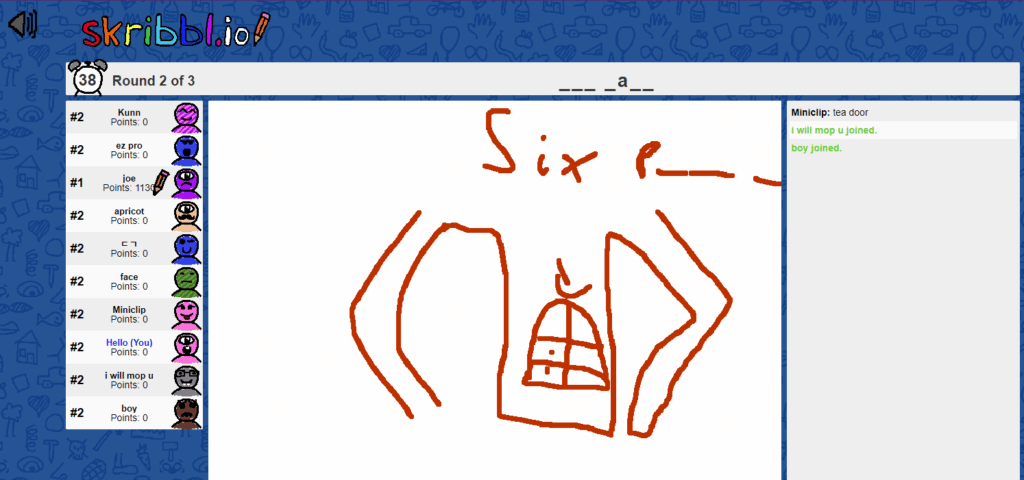 Skribbl.io is a drawing and guessing game that is quite similar to Pictionary. Each player is given a word that they have to draw, and the others will guess what it is within the given time limit.
The great thing about Skribbl is that you can change the draw time, number of rounds, the language, and even add in some custom words. This is a great game to play with friends over a voice call and is very easy to set up.
2
Krunker.io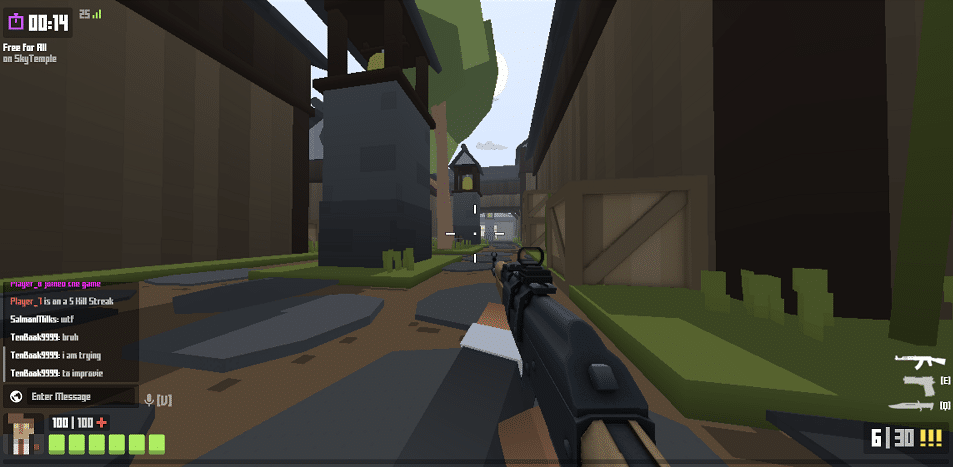 Krunker.io is an FPS game accessible through your browser. Obviously, it doesn't have the most impressive graphics in the world. But it does work if you and your friends and itching for a quick FPS game fix.
All you need to do is simply send your friends the link, and you can play with them immediately. You can also buy in-game items through the shop by collecting coins through gettings kills. Overall, it's a fun game that doesn't require much FPS experience to enjoy.
3
Pokémon Showdown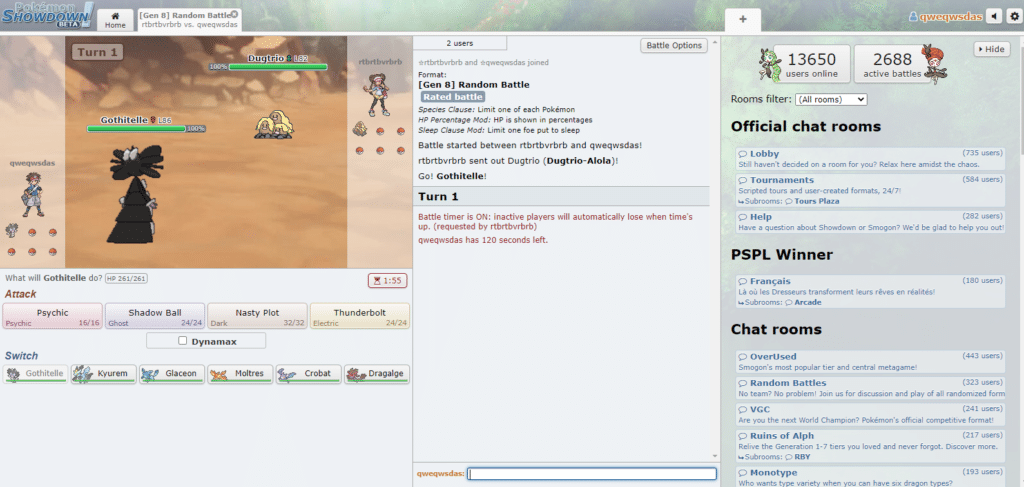 Pokémon Showdown is a battle simulator that supports all generations of Pokémon. You can choose from the different formats, from random generation battles, doubles, and even free-for-alls.
A good idea is to create a tournament among your friends and battle each other to find out who becomes the Pokémon Champion. It's definitely a fun game to try out if you are a fan of the Pokémon franchise.
4
Wilds.io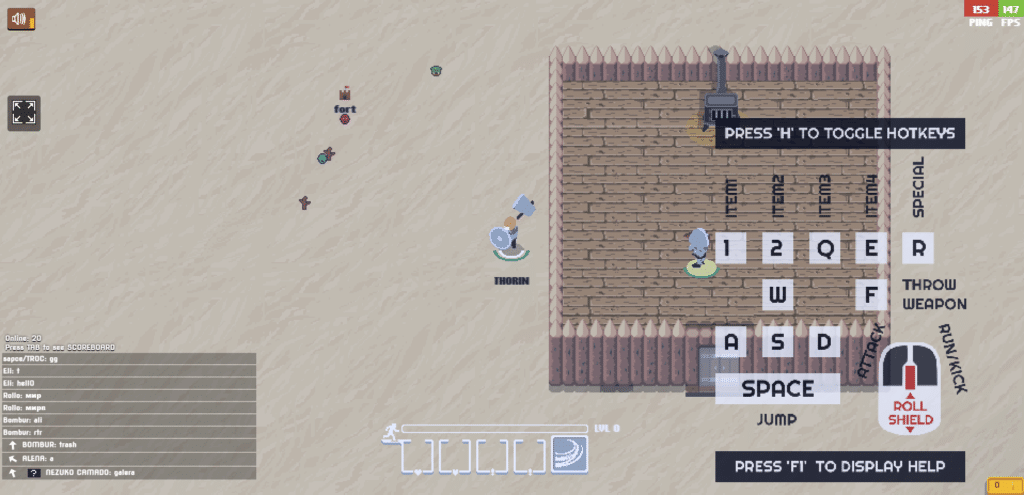 Wilds.io is a barbarian hack and slash game with RPG elements. It offers different game modes, such as deathmatch, 1v1, 2v2, and a Soccer game mode.
You can even start your own tribe with your friends and compete with other tribes. Each tribe has a specific area of the map that you can compete for. The great thing about this game is that you can either play within your friend group or compete with others online.
5
Playingcards.io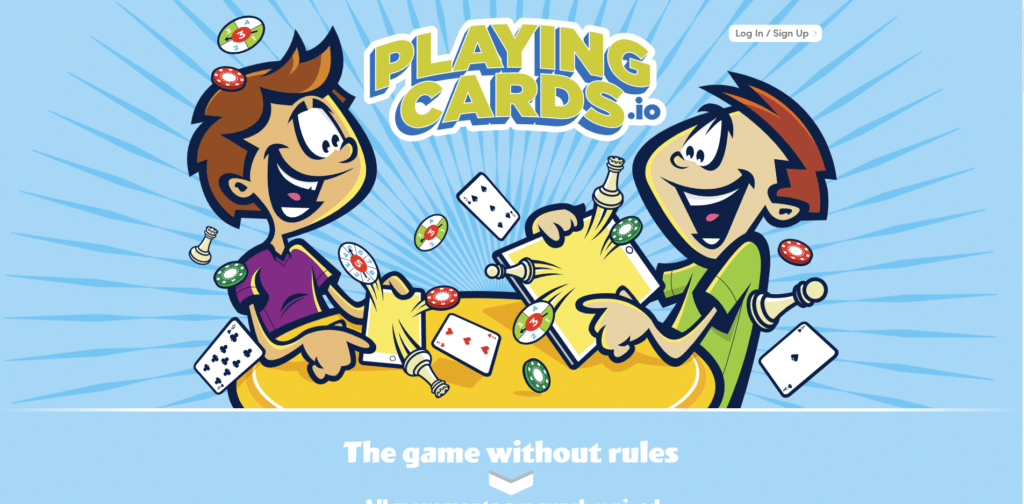 Playingcards.io allows you to play different card and tabletop games with your friends. By default, it already has some popular games like Chess, Checkers, Go Fish, Hearts, and Crazy Eights templates. However, you can also create your own games by setting them up yourself.
The downside to this game is that you have to know the rules to play the game since the game allows you to do whatever you want. It requires a bit of self-discipline as well. But it's still a great game to play with friends on game night.
And those are our picks for the best online PC games to play with friends. All of these games are definitely fun and offer some unique gameplay experiences to share with friends. Hopefully, you and your friends can choose at least one of these games and enjoy playing the night away.
What game are you going to play with your friends? Leave a comment below!
Videos
1. Most Popular Coop Games Everyone Is Playing With Friends! PC / Steam
2. Best CO-OP Games | Top 10 COOP PC-Games 2021
3. Best Multiplayer SURVIVAL Games!
4. TOP 20 BEST Co-op Games for PC
5. The 10 free games to play right now (seriously, all free)