The ceiling in your car is something people rarely think about. It's up there, prettifying your roof and helping to keep the cold or heat off your head… until it's not.
Then you're left with the unsightly issue of sagging headlining (or roof lining, depending on your terminology).
Read more about car interiors
Whether this means bits of material coming away from the actual roof, or big bags of cloth trim dangling just above your scalp like you've walked into a spider's web, it's time for action.
Whatever the job and no matter what you call it… car roof lining repair, car ceiling repair, hood lining repair, car roof lining replacement… it's time to get that sorted, quick-smart.
Types and causes of headlining failure
Two of the most common types of roof boards to which headlining or roof lining is applied to are the fibreglass board (as found in newer models) and cardboard composites, as per slightly older vehicles.
Both normally have the headlining glued on them, though going back to before the mid '80s, some models like the original Holden Commodore had their material stitched or sewed on. Come to think of it, our 1950s Morris Minor 1000 is the same.
A variety of factors cause loose, baggy or sagging headliner, though – inevitably – it all comes down to gravity.
Cutting corners: this is where the manufacturer has literally cut corners to save money, by leaving no extra margin of material tucked over the board to provide extra resistance to sagging.
Smokers: the soot lodges itself in the headlining, gradually adding weight over time, while various chemicals within that react with the adhesive to break down the car roof lining glue. Smoking is a headlining hazard!
Environmental conditions: extreme temperatures also break down the glue over time as it expands and contracts according to temperature – heat, cold, moisture, humidity all play their part.
Cleaning: applying pressure to the headlining can crush the glue or dislodge it, hastening the demise. Culprits include prodding the ceiling with a finger or fist, dabbing it with a sponge or jabbing it with a vacuum cleaner nozzle. Our advice is to leave it alone and get a professional interior detailer to work their magic instead, and only when required.
In-car fragrances: some contain strong chemicals that also break down the glue over time.
Large objects: we've all been guilty of trying to stuff a couch in the rear of a station wagon or hatchback, only to be stopped by – you've guessed it – an armrest or leg scraping against the ceiling. Shudder!
Sharp items: bicycles, broomsticks, flat-pack furniture, fence posts, garden implements… anything with a corner can rip into the headlining. Be careful out there!
What can you do?
As a consumer, you have choices when it comes to the how, when and where of car roof liner repair cost.
Firstly, DIY. Hmm. Some people come up with some creative do-it-yourself solutions, like stapling or double-sided taping of the material to the backing it came away from in the first place, but the result is an eyesore that won't fly when it comes to reselling. A home fix rarely looks as good as a professional job.
Re-gluing it all yourself is a more viable option of course, but this is more complicated and time-consuming than merely reapplying adhesive to the ceiling and hoping that the loose end sticks. And, chances are, you'll damage the material irretrievably if you attempt to pull out a corner to reach a central sagging area.
Plus, there's all the extra work required for preparation. Which headlining material, glue and trim-removal tools would you need and where do you get them from anyway? Our research has shown that buying a roof lining kit that include items like sagging headliner pins isn't that cheap – indeed, it's almost the price of having somebody come out and do it all for you when you factor in all the associated costs.
And even if you do succeed, getting the fine felt material to sit flat along the surface isn't easy; and all areas need to be absolutely pristine to avoid adhesive failure as well as lumps and bumps.
Time for a headlining repair expert!
Falcon headlining sag is legendary. (image credit: Byron Mathioudakis)
Such artistry is beyond many people. It certainly was for us.
That's why we sought out a professional vehicle interior trimmer to fix the poke-in-the-eye headlining that was ruining our original 1990 Ford EA Series II Falcon GL sedan.
Fun fact: As everybody in the motor trim trade knows, Falcon headlining sag is legendary – far more so than VW Beetle headliner, Honda Civic headliner, Audi A4 headliner, Porsche 911 headliner and Subaru Forester headliner issues. It's reportedly due to a change in manufacturing processes during the infamous AU model run (1998-2002). Later Holden Commodore headlining woes are also commonplace.
Our brief was simple: we wanted an in/out at-home mobile service. Searching online, we found that prices for a Falcon headliner with fitment varies between $200 and $500-plus (for a sunroof model).
What about using a car roof lining repair near me?
Some providers will discount by about 25 per cent if you're willing to travel to their workshop.
All quotes suggested about two hours all up, depending on weather conditions and whether the location was under cover/garaged or outdoors.
We chose the mobile service option for reasons of time and convenience – most we researched were located at least 45 minute away from home, negating any costs saved by driving out to some distant industrial park.
We contacted several roof lining repair providers within the Melbourne metropolitan area for a quote, ranging from cheapest to most expensive; all were flat-out busy (you'll understand why later on). Surprisingly, the cheapest said they'd do it soonest, so got the go-ahead. But they failed to show up on the Saturday morning as scheduled, which was frustrating . We actually then gave them a second chance but, incredibly, we were stood up again. Next…
The second provider, on the other hand, asked for detailed photos of the Falcon's headlining, then returned to us quickly with a quote of $375. This included all parts and labour, as well as several date and time options to choose from, which is always a bonus. Utes cost a bit less; wagons and SUVs a bit more. Rare or oddly-shaped vehicles also command a small premium.
Cameron Dobie, managing director of CDA Motor Trimming of Mooroolbark in Melbourne, walked us through with what needed to be done and why. He ended up winning our business by being courteous, prompt and professional, and was kind enough to allow us to photograph him in action.
Why employ a professional motor trimmer?
Knowledge: a true pro will know exactly which headlining is required for your year, make, model and grade of vehicle.
Options: some will give you options too, designed to either enhance what's already there or update the headlining noise-deadening qualities.
Handling safety: there may be toxic chemicals and particles associated with the old adhesives and even the spent lining itself; asbestos and other lethal substances may have been used in some older models; that's why most pros will be masked and gloved and wear safety glasses at all times; also, some fibreglass headlining boards contain very sharp edges.
Disposal: you might be surprised how much material is required to remove; most pros will take all this away and dispose of it cleanly and legally.
Tools: there are many specialist tools involved in the removal of old and preparation of new headlining, as well as its fitment.
Trim: rare and/or unique trim requires special equipment to remove and reattach again. Don't risk breaking precious parts of your vehicle.
Experience: there are thousands of different types of interior headlining scenarios, and many involve working around interior lighting, unique trim and garnishes, grab handles, overhead consoles, a sunroof and even speakers; all require specialist craftsmanship as well as equipment.
Electrical safety: a pro should know about your vehicles electrical system and how it pertains to its headlining; some lighting, for instance, have negative earthing properties that need to be considered.
Glue: cheap glue or the wrong glue will disintegrate and/or damage surrounding material and trim over time. A pro will know which one to use.
Advice: most people break the cardinal rule of headlining – don't touch it ever; doing so will greatly increase the likelihood of sagging (again).
Cleaning: there is a specific low-impact cleaning method to avoid damage.
More is more: if you decide to purchase headlining independently, allow for at least 100mm of material overflow since headlining boards are not flat and so allows for margin of error.
Headlining removal
Related Posts
Detec's Continuously Monitored Moisture Detection System and…
FM Approval of the IntegriScan™ Electronic Leak Detection…
Tejas Roofworks + Restoration States the Benefits of Hiring…
The basic principle of headlining replacement is straightforward. Remove old headliner. Prepare new material and adhesion surface. Apply. How it's done varies from trimmer to trimmer.
Here's CDA's way.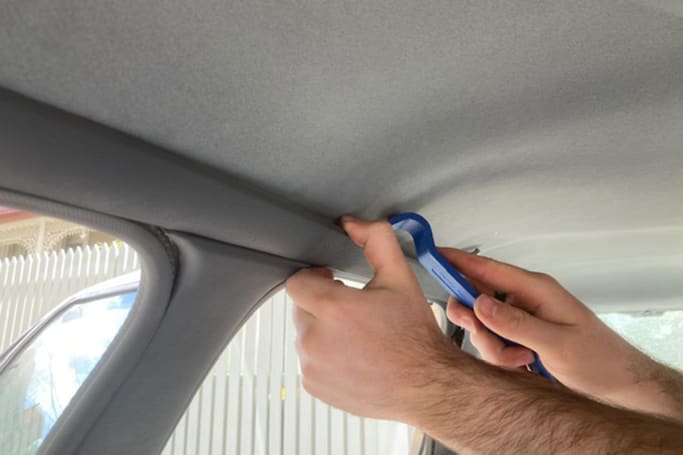 The trim surrounding the headliner must be removed. (image credit: Byron Mathioudakis)
The first thing to do before anything else is cover up the rest of the car's interior as much as possible. Use drop sheets, towels, blankets or anything that can collect the refuse that will inevitably rain from above. It can be minute in particles, toxic and harmful to human skin as well as the surfaces it lands on. Nobody wants to sit on that stuff later on.
Then the trim surrounding the headlining must be removed. In some cars, we're talking about rare, expensive and even irreplaceable interior fittings. Care is paramount.
A good tip is for the front seats to be laid as far back as possible, so the headlining can be taken out via the front passenger door.
"I prefer to take the whole headliner board out of the vehicle, because you have a better idea of what might be damaged and what needs to be done," Cameron said. "Sometimes it's because of water damage as a result of windscreen repairs where the sealant hasn't quite worked, creating a water leak issue. It's a better long-term solution for the client."
Making sure everything is spotless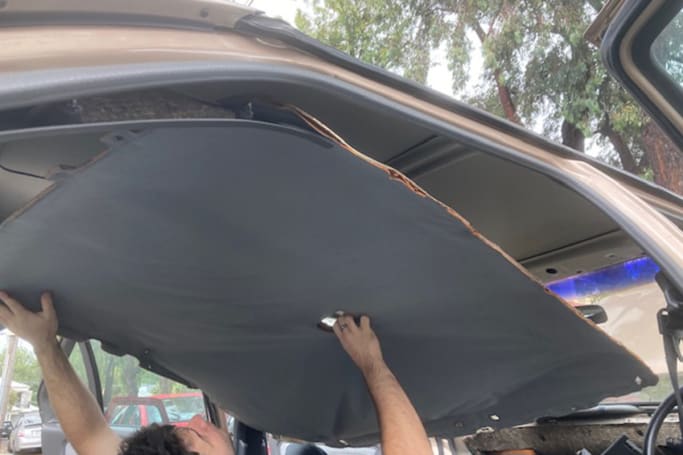 The headlining is manoeuvred out of the car from the left-hand-side front door. (image credit: Byron Mathioudakis)
After the headlining is manoeuvred out of the car from the left-hand-side front door, immediately vacuum all headlining debris inside and outside of the vehicle, as it is toxic and can stain trim and material, especially cloth.
The important thing here is that the headlining board needs to be clean. The original foam backing needs to be removed, and can be brushed or filed away depending on how deteriorated it is. An air gun is a good idea to ensure all debris is removed. The area must be spotless.
Applying the new material on the board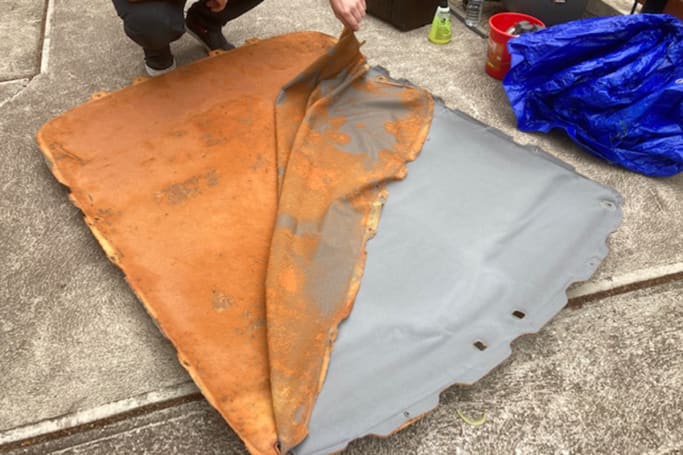 The headlining material consists of a layer of velour, a layer of foam and a layer of scrim. (image credit: Byron Mathioudakis)
After the headlining board is cleaned, it is laid out ready for adhesive. A well-ventilated area is a must if this is being carried out inside a garage or workshop.
In the Falcon's case, the headlining material consists of a layer of velour, a layer of foam and a layer of scrim. The scrim is a modern innovation, as it acts as a backbone by adding structural integrity.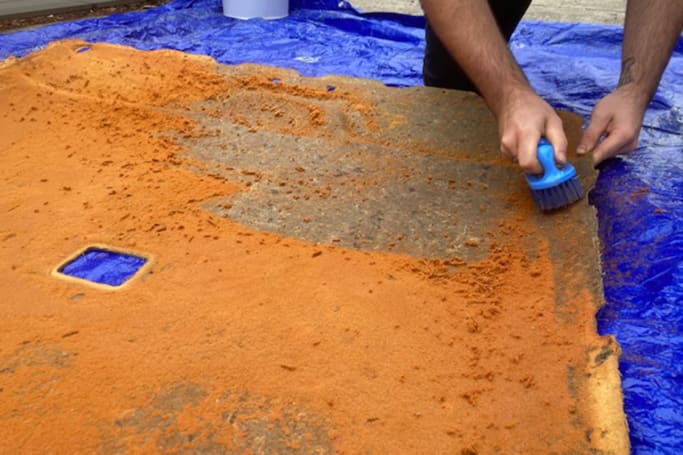 The original foam backing needs to be removed. (image credit: Byorn Mathioudakis)
Cameron said he usually applies the glue three times, depending on ambient temperature; it costs a bit more in glue and time, but the result ensures proper, even and lasting adhesion. Glue is applied in a thin streak rather than heavy blotches, to save it bleeding through.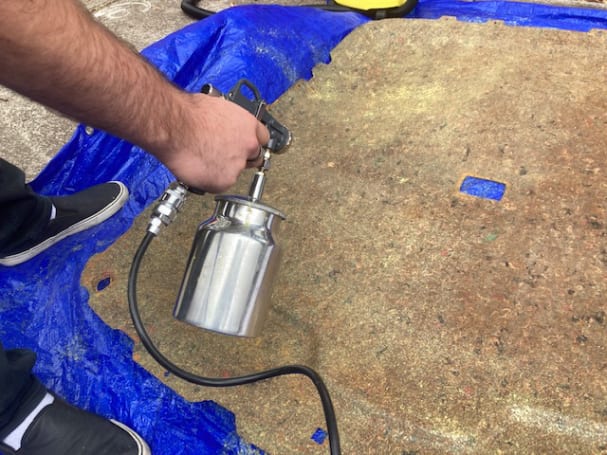 Glue is applied in a thin streak rather than heavy blotches. (image credit: Byron Mathioudakis)
The first round adheres the glue to the roof. The second one adheres glue to glue and the third round adheres glue to ceiling.
After the material is applied by being lifted and dropped into place, it is then gently massaged in, with the heat of the action warming up the adhesive. Technique is everything here. There isn't much room for error.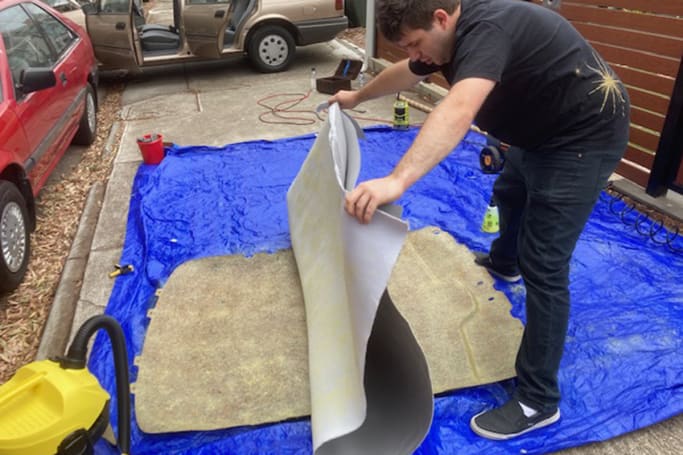 After the material is dropped into place, it's time to gently massage it in. (image credit: Byron Mathioudakis)
Tucking the material in and under the board will help keep it in place for much longer.
"Factory headlining is usually only trimmed to the board and not beyond it," Cameron revealed. "That's a cost-cutting measure and every manufacturer does it – and as such, this method can't prevent the material from falling should the adhesive eventually fail. So, I trim over the top and around the board to be safe."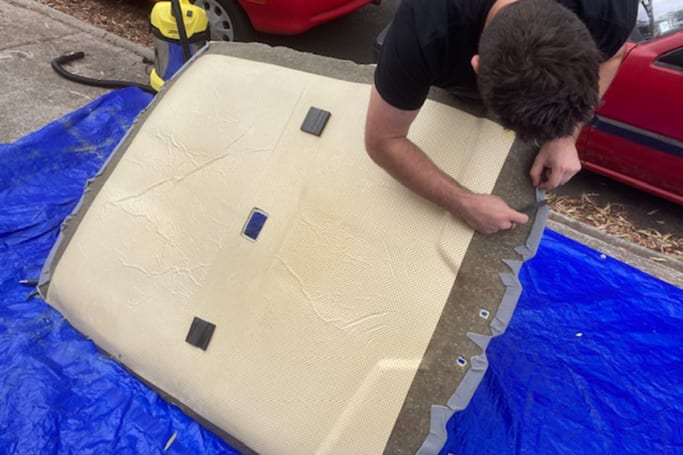 Tucking the material in and under the board will help keep it in place for much longer. (image credit: Byron Mathioudakis)
Refitting headlining to ceiling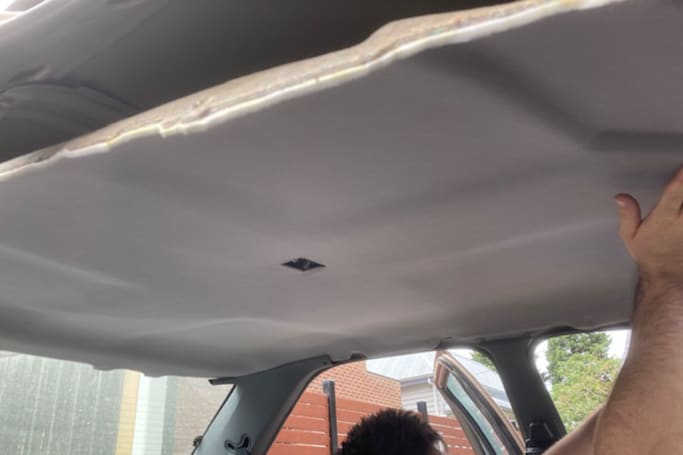 Placing the The headlining board back into the vehicle demands plenty of care, concentration and patience. (image credit: Byron Mathioudakis)
The headlining board is then put back into the vehicle the same way it came out – in our case, via the left-hand-side front door, then lined up with the pillar trim pieces before it is very gently slid back into place. This also demands plenty of care, concentration and patience.
After that, in the case of our Falcon, the entire ensemble is secured in place with the centre overhead light, before all other trim pieces are applied to lock it all securely.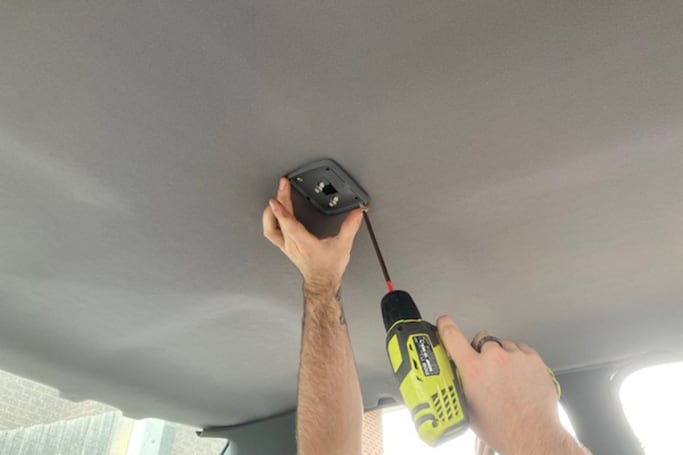 The entire ensemble is secured in place with the centre overhead light. (image credit: Byron Mathioudakis)
It is recommended the car is left in a dry and well-ventilated area under cover for at least an hour, though it may take up to two days before everything is well and truly set.
Job, well done.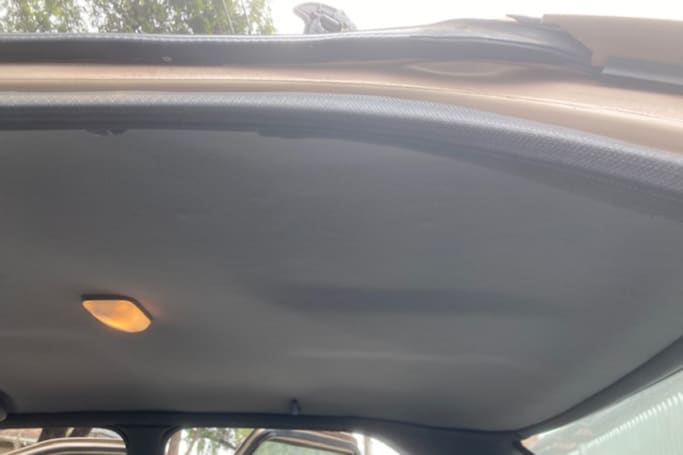 The EA's ceiling looks factory-fresh. (image credit: Byron Mathioudakis)
That was six months ago. Today, the EA's ceiling still looks factory-fresh, raising the ambience as well as the pleasure travelling in the Falcon.
It was well worth the $375 for all that.
PS…
Looking for an interesting and rewarding new career as a qualified automotive trimmer?
Become a qualified motor trimmer!
According to Cameron, it's sadly a dying trade and is too-often overlooked by people wanting to get into an automotive trade, yet is incredibly undersubscribed despite growing demand for this skill, particularly as the classic car scene continues to grow year-on-year.
At three years, it's also one of the shorter courses within the automotive trade field. Plus, the qualification includes mandatory boat training too.
Videos
1. No1 Hack To Fix A Sagging Headliner Quickly — ROOF LINING REPAIR CHEAP EASY & QUICK FIX METHOD!
2. Detail Process Replacing the Headliner Ceiling Fabric in Any Vehicle
3. How to REPLACE YOUR HEADLINER cheap and easy!
4. How To Fix Sagging Headliner using Spray Adhesive
5. HOW TO REMOVE HEADLINER ON A CAR. HEADLINER REPLACEMENT