2018 was one of thewettest years in U.S. history. So, any concerns that you have about your insurance coverage are perfectly valid. Unfortunately, a majority of the time, your homeowners insurance policy won't cover water damage from natural, outside sources (e.g., snow, rain, etc.). However, home insurance usually covers water damage caused by internal sources (e.g., appliances and essential systems in the home).
Insurance doesn't cover damages sustained from DIY failures. This means that your insurance company will likely cover damages caused by a broken pipe. However, if you try to replace a pipe yourself and fail to do so properly, your insurance won't cover any resulting damages. Unsuccessful DIY projects may be seen as neglect, as improperly repairing appliances and parts may qualify as poor maintenance.
What About Floods?
You can't always predict storms, but youcanprevent floods from wreaking havoc on your basement in the first place. If you need coverage against external forces, purchase a separate flood insurance policy fromThe National Flood Insurance Program (NFIP)or a private insurance company. Few homeowners do because it's an additional expense, but it may cover your damaged foundation and other structural components. To ensure you receive the most coverage, you should purchase both build and contents coverage. Build insurance covers any additional costs to repair your home up to code after a protected mishap. Home contents insurance—or personal property insurance—helps you replace damaged or stolen items.
What About Your Sump Pump?
Sump pumps may be covered, depending on whether you've added an endorsement to your policy. But even so, endorsements might not cover all the damage. It's best to take preventive measures to thwart problems before they arise. Replacing an old sump pump and investing in a battery backup system are two easy ways to stay proactive.
When Should You Contact Your Insurance Provider?
Ideally, you should contact them as soon as possible. Water damage comes in a variety of forms, and policy language can be confusing, but your agent can help you better understand your coverage.
How Do You Prevent Water Damage?
Contact a basement waterproofingcontractor. They can inspect your basement and take any necessary steps that will help you avoid costly repairs. Fromsealing crackstorepairing leaky pipes, a professional ensures your basement is fully protected from the elements.
WRITTEN BY
Austin Werner
Austin Werner is the Owner of The Real Seal LLC, a basement waterproofing and foundation repair company. Austin believes that having a highly trained and happy team is the key to success. This is reflected through hundreds of 5 star customer reviews his company has received online.

RELATED POSTS
Why Is Water Leaking Into My Basement After Heavy Rain?
Basement Leak Repair: How To Seal And Prevent Leaks
A Homeowners Guide To Concrete Floor Leveling
DOWNLOAD OURFREE GUIDE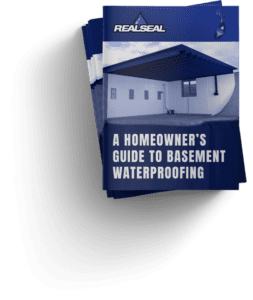 Videos
1. Does Homeowners Insurance Cover Water Damage? | Allstate Insurance
2. When to make a water leak homeowners insurance claim
3. Is water damage covered by home insurance?
4. Water Damage Will My Homeowners Insurance Policy Cover It Webinar
5. Does Homeowners Insurance Cover Mold? | Home Insurance Mold and Water Backup