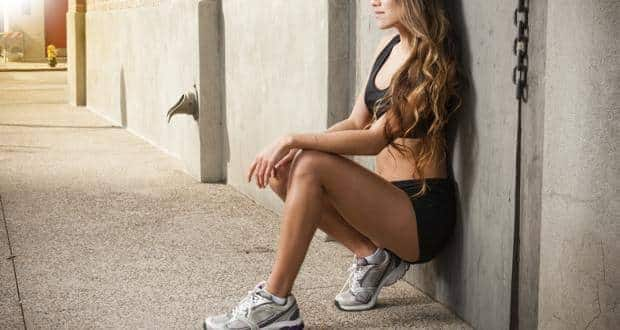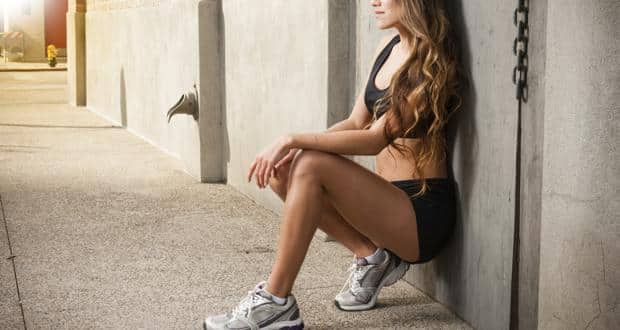 For some reason, people have a lot of trouble losing weight from their lower body, especially women, since they have more fatty tissues around the buttocks, thighs and abdomen.
Fitness trainer Akshay Chopra told TheHealthSite.com: 'Men and women are different and will store fats in different parts of their body and there are evolutionary reasons for this. Women have wider hips and pelvis which is necessary to deliver babies. Men on the other hand are predisposed to store fat in the belly and neck area while women are likelier to store in their hips, arms and thighs. Another thing you need to realise before you start exercising is that there's no such thing as spot reduction. You can't just burn fat from one part of your body. But believe me, regardless of your gender or body type you can get rid of these last deposits of fat pockets. And you don't have to resort to invasive methods like liposuction or stomach stitching surgeries.'
The thing is that just walking, running and other forms of cardiovascular activity aren't enough to tone your lower body. What you need is some good, old fashioned weight or strength training to target those areas. And yes, this tip applies to the ladies as well.
Also Read
Weight Loss Tips: 5 Fat-Burning Ayurvedic Herbs That Will Help You Lose Weight Fast

High-Fat Diet Combined With Liquid Fructose Intake Can Trigger Fatty Liver Disease

Non-Jumping Cardio Exercises That Will Give You A Full-Body Burn
More News
Squats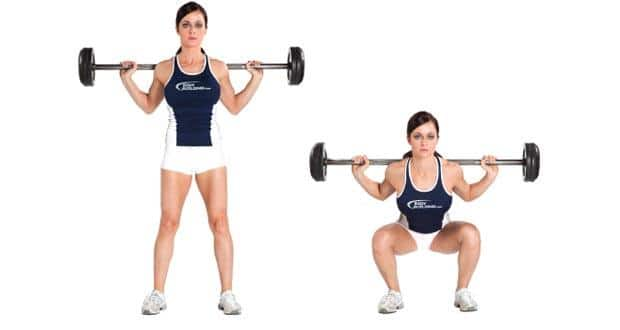 The mother of all compound exercises, the squat is designed to target every muscle in your body and burn the fat away. When done with weights it targets the muscles of thighs, hips, buttocks, quads and hamstrings. Not only are they great for your muscles but they also help strengthen your bones, ligaments and tendons throughout the lower body. When you're doing it with weights, it engages your lower back, upper back, abs, shoulders and arms making it the most complete exercise of them all! It can either be done with weights (a barbell on one's shoulders or holding a dumbbell or other weight in the arms) but the basic lower body movement remains the same. Read how to do a proper squat.
Standing Calf Raises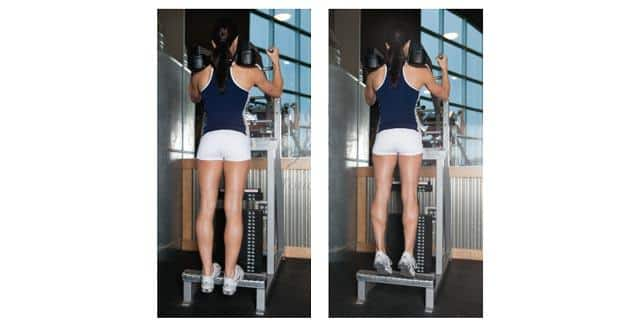 Standing calf raises is another great exercise that requires a machine but can also be done with dumbbells on your hand. It's however good for isolating the calves. Place your shoulders under the pads of a standing calf press machine and position your toes facing forward. The balls of your feet should be secured on top of the block with your heels extending off of it. Push the lever up by extending your hips and knees until you can stand up straight. This will be your starting position. Now exhale as you raise your heels by extending your ankles as high as possible while flexing your calves. Hold the contracted position for a brief moment, then inhale and slowly lower yourself back to the starting position.
Seated Calf Raises

Sit down on a seated calf press machine and place your toes on the lower portion of the platform with your heels extending off it. Place your lower thighs under the lever pad, adjusting the pad to fit snugly against your thighs. Place your hands on top of the lever pad to prevent it from slipping forward. Lift the lever slightly by pushing your heels up and release the safety bar. Inhale as you slowly lower your heels by bending your ankles until your calves are fully stretched. This will be your starting position. Exhale as you raise your heels by extending your ankles as high as possible while contracting your calves. Hold the top contraction for a brief moment and then slowly return to the starting position.
Leg Extensions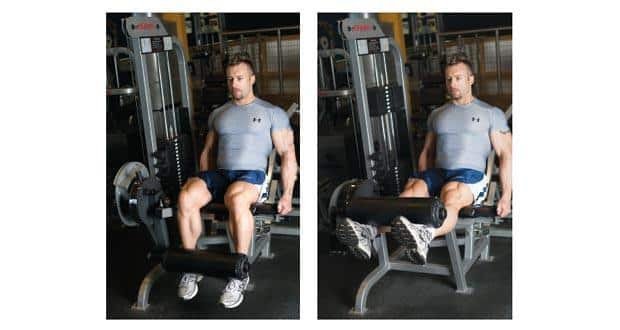 Choose your weight and sit on a leg extension machine with your legs under the pad, your hands holding the sidebars. This will be your starting position. Make sure your legs form a 90-degree angle between the lower and upper leg. Using your quadriceps, exhale and extend your legs while the rest of your body remains stationary on the seat. Pause a second in the contracted position, then inhale as you slowly lower the weight back to the original position, stopping right before the weight load touches the weight stack.
Lying Leg Curls

Adjust a leg curl machine to fit your height and lie face down on it. The pad of the lever should be on the back of your legs, a couple inches below the fullest part of your calves. Keep your torso flat on the bench and ensure that your legs are fully stretched. This will be your starting position. Exhale as you curl your legs up as far as possible without lifting your upper legs from the pad. Once you reach the fully contracted position, hold for a brief moment, then inhale and bring the legs back to the starting position. Read more about lying leg curls.
Leg Press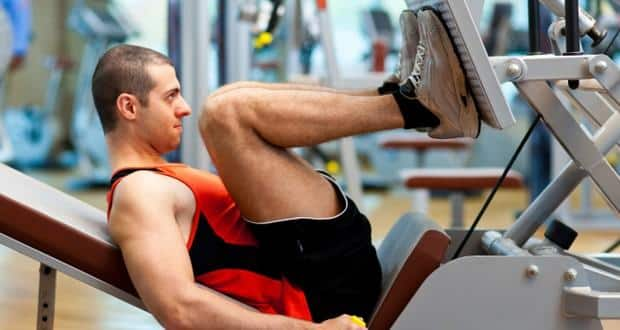 Sit down at a leg press machine and place your feet on the platform directly in front of you shoulder width apart. Lower the safety bar holding the weighted platform in place and press the platform up until your legs are almost fully extended in front of you; do not lock your knees. This will be your starting position. Inhale as you slowly lower the platform until your upper and lower legs form a 90-degree angle. Driving mainly though the heel of the foot, exhale as you push the platform back to the starting position. Work your legs with the old school leg press.
Lunges
Lunges might look simple to do but it requires proper balance and posture. It can be done without weights as well but is a great way to tone your thighs and buttocks. You can make lunges more challenging by picking up two dumbbells or holding a barbell over your shoulder. The best part is, you can do it anywhere in the office, at home, gym, etc. Here's a step-by-step guide to help you perfect your lunge. Read how to do lunges properly.
Cardio and diet
And of course, it's impossible to shape any part of the body without following a proper dietary regime. For example, some things you need to keep in mind is to eat more meals but smaller ones, eat more fibre, stay away from saturated fats, stay hydrated, cut down on sugar, cut down on alcohol and most importantly, keep track of what you eat. Along with that, you need to follow a proper cardio regime with running, walking, cycling, swimming and other aerobic exercises which will improve your cardiovascular health and also help you lose weight.
Picture Courtesy: TheBodybuilding.com Guide to Your Best Body
You could also try out these exercises for specific body parts:
Exercises for shoulders

Exercises for abs

Exercises for arms

Exercises for legs
For more articles on bodybuilding, check out our bodybuilding section. Follow us on Facebook and Twitter for all the latest updates! For daily free health tips, sign up for our newsletter. And to join discussions on health topics of your choice, visit our forum.
Buttocks

Fat

Hips

Legs

Lower body

Toned thighs
Videos
1. Lower Body Workout | Toned Legs & Butt | 2 Weeks Challenge
2. Burn Belly Fat & Thigh Fat Workout | Fat Burning Workout (15 Mins)
3. Full Body No Jumping Workout To Burn Fat | Burn Thigh Fat Low Impact Cardio
4. At Home Butt & Thigh Fat Burning: 6 Exercises for AMAZING Legs
5. LEGS + HIPS + THIGHS + CALVES: 25 MIN LOWER BODY FAT BURN