Lucas Seltzer Updated on Apr 15, 2022 5:49 PM
So you're having trouble with your iPhone that keeps shutting down unexpectedly. Specifically, the iPhone turns black and then the Apple logo appears, but does not start up – this keeps happening. Sometimes this is just a matter of the battery running out or in low percentage or not charging at all, and sometimes it's all about the device running hot with temperature warning on the screen. The software related glitches could also lead to the random shutdown issues with iPhone.
If the iPhone keeps shutting off for no reason, we've got some quick, easy ways that can fix the annoying issue. Whether the device keeps turning off in question, keeps crashing or won't charge, you'll be able to get it working again as well as improve its performance.
Method 1: Force Restart iPhone
There's a lot of truth in that, if iPhone is shutting down on its own a lot, you might not be able to simply restart the phone, but thankfully, you could perform a hard reset (or force restart) instead. Don't worry—this isn't the same as a factory reset, it just purges the phone memory by forcibly turning the iPhone off and back on to restart it, so you will not lose content.
The process of forcing an iPhone to restart is straightforward, but not every iPhone device is programmed to do the force restart the same way. Apple Support – Force Restart iPhone
On iPhone 6s, 6s, SE, 5s or earlier:
Press and hold the Sleep/Wake button and the Home button simultaneously.
When the Apple logo appears, release both buttons.
On iPhone 7 or 7 Plus:
Press and hold both the volume down button and the Sleep/Wake button.
When the Apple logo appears, release both buttons.
On iPhone 8, X, XS (Max), XR, 11, 11 Pro or later:
Press and quickly release the volume up button.
Press and quickly release the volume down button.
Press and hold the side button until the Apple logo appears.
Now your iPhone should start up normally, and stop shutting off again and again.
Method 2: Update iPhone to the Latest Version of iOS
Make sure the iPhone has been updated to the latest iOS. Installing a newest iOS can deliver amazing features, refresh the phone and fix any bugs that cause iPhone to keep shutting off without you asking it to, as well as other errors. You could update the device wirelessly via Settings app without connecting to iTunes:
Launch Settings app.
Tap General > Software Update.
Tap Download and Install if your iPhone hasn't downloaded the software.
When finishes, tap Install Now, and wait for the process to complete.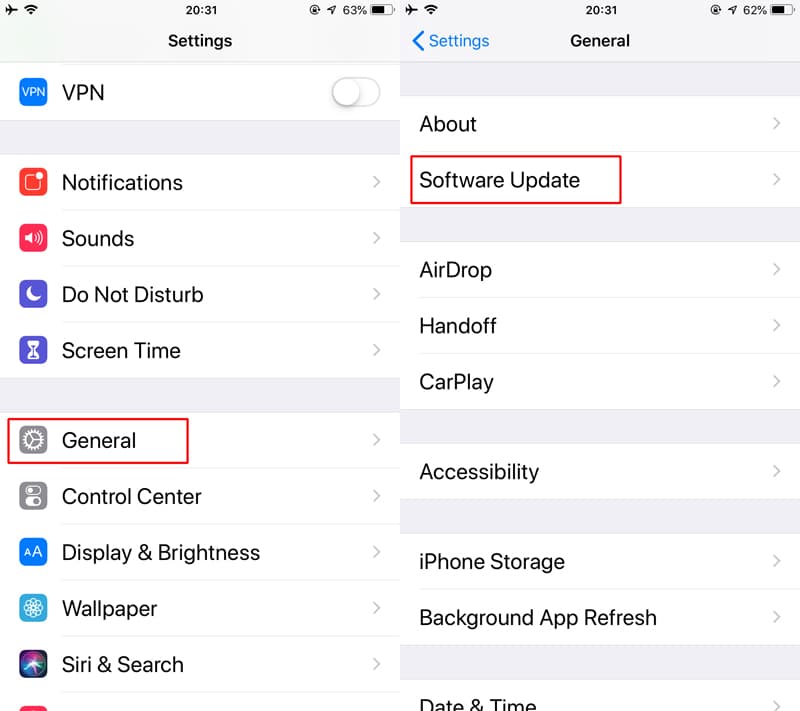 In case you prefer to update iPhone using a computer, read this: Update iOS on iPhone.
Method 3: Use a Tool to Fix iPhone Keeps Shutting Off Randomly
If your iPhone is shutting down itself randomly – despite having battery remaining – it's possible that the operating system is crashing. To fix this, you may need to resort to a repairing tool to rescue the system. Use iOS System Recovery tool to ensure you have a technique handy should you ever run into issues with the iPhone keeps turning off all the time.
Once you run the tool, connect your iPhone, and it will tell you if it finds anything wrong. If the phone is in an abnormal status, apply either Standard Mode or Advanced Mode to fix software-related bugs and reinstall iOS with a few clicks. It's simple and easy to use. The software can also save you both time and a headache if the iPhone starts shutting down when trying to restore.
Guide: How to fix an iPhone that keeps shutting off completely
Before you read the tutorial on fixing the iPhone randomly shutting down, make sure to download the utility and install it on a computer (PC & Mac). Then run it and do the following:
Step 1: Connect iPhone to computer
Upon opening the software, plug iPhone into the machine using an Apple USB cable or at the very least a trusted cable.
Click "More tools" located on the lower left corner of the window, and then choose "iOS System Recovery" tab in order to resolve the problems of iPhone keeps shutting off and showing Apple icon on the screen.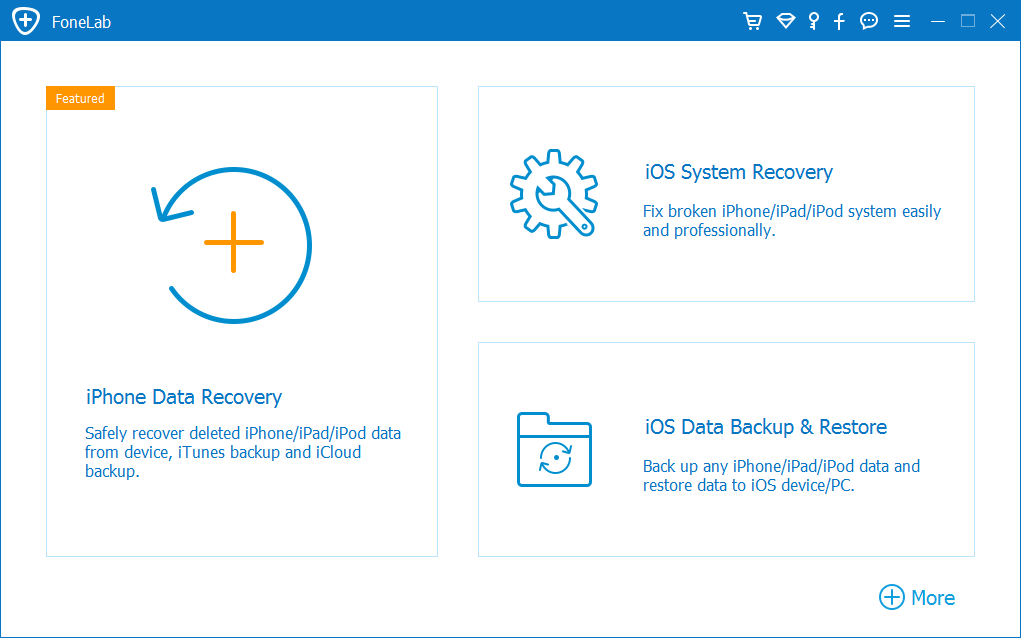 Then press Start button, and Fix button to move on.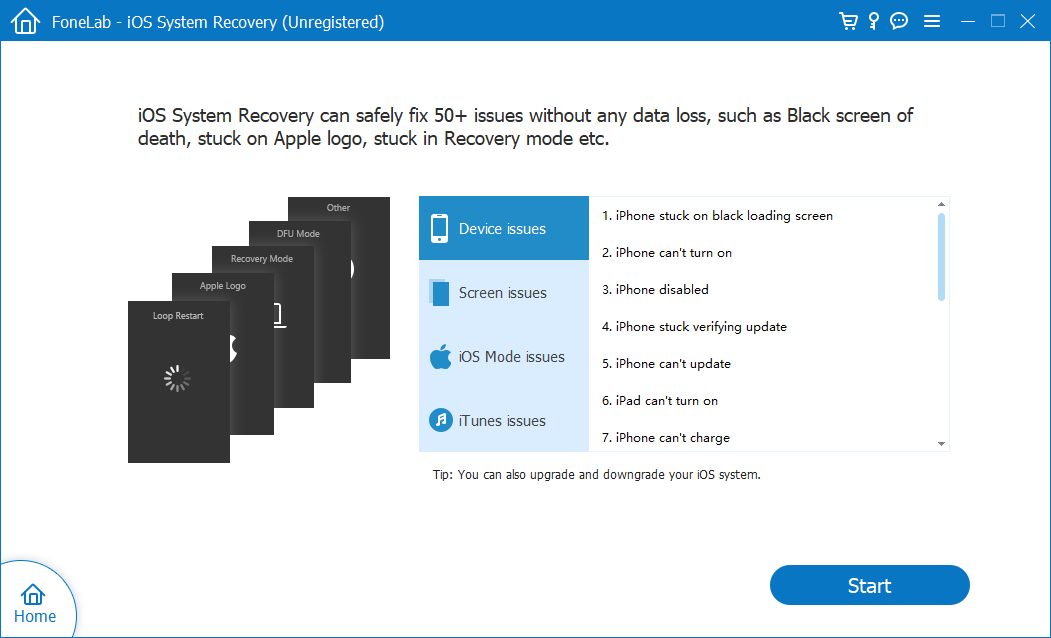 Step 2: Select "Standard Mode" to repair iPhone
In this step, leave "Standard Mode" option selected, and press Confirm button to continue. This doesn't erase the data on the device.
When the regular repair mode fails to boot up iPhone and it still shuts itself off, you will need to choose "Advanced Mode" instead.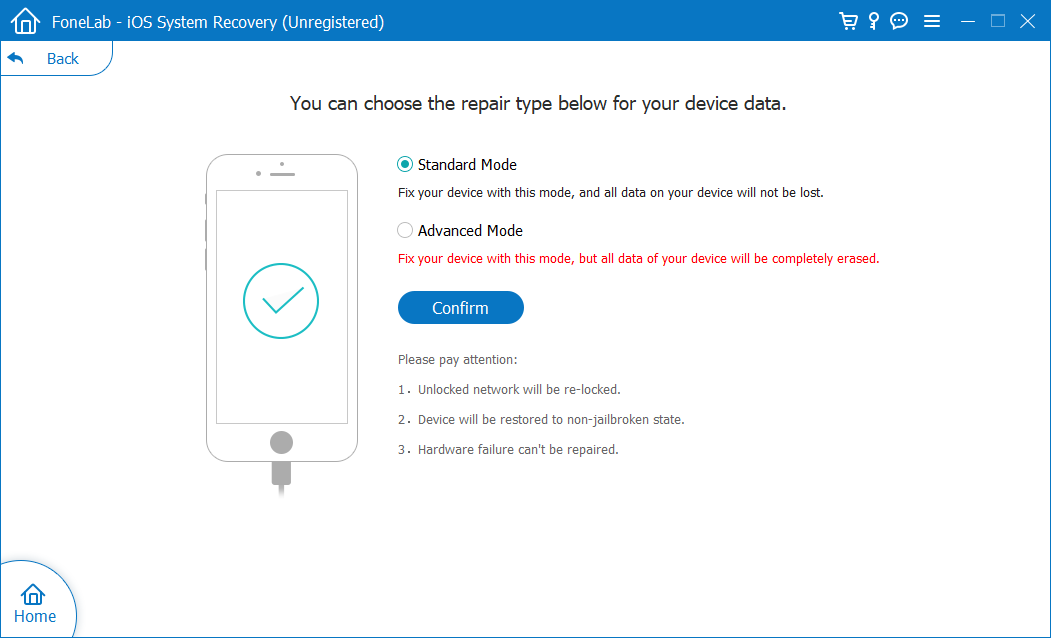 Step 3: Download firmware package
Next up, you'll be asked to select a firmware package to download on your device. By default, the tool will use the latest version of iPhone software depending on your model, and you should.
Leave things alone, and click Next button. The download process of iOS firmware begins.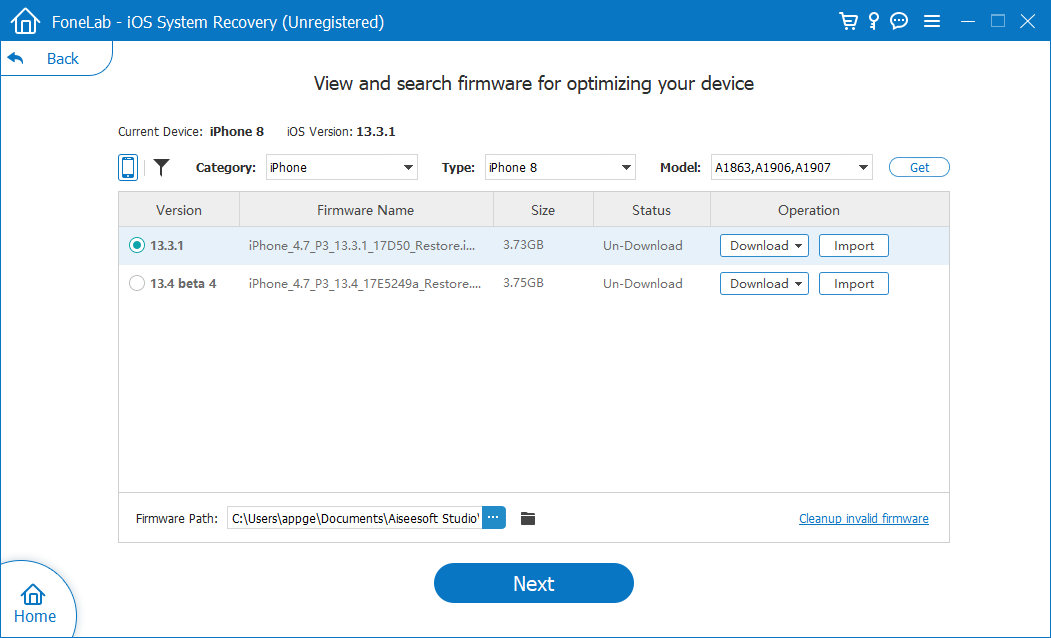 Step 4: Repair iOS and fix iPhone shutting off issue
Within minutes, the process should finish. Click Fix button.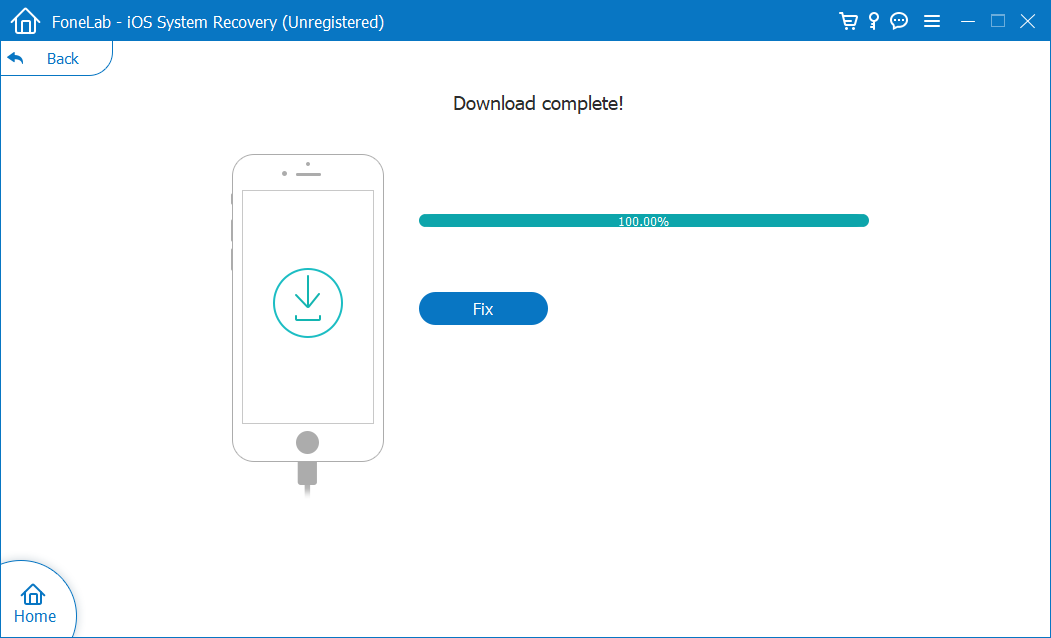 Now the application is doing its business to solve issue with iPhone keeps on shutting off all by itself. You'll need to set aside roughly a few minutes. Keep your eyes on the screen when iPhone restarts and see if it shut down again.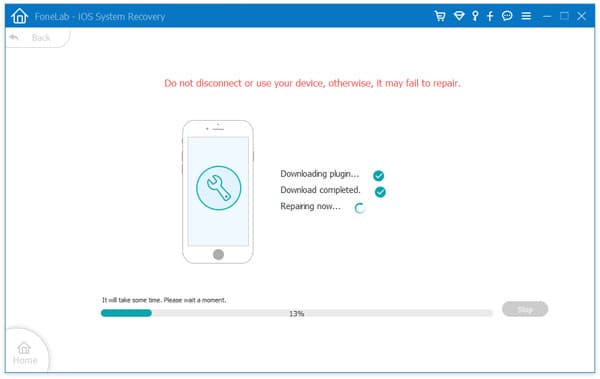 Method 4: Check battery Health and Calibrate Battery
Does iPhone randomly turn itself off with battery remaining – it dies out of nowhere with battery life anywhere from 10% to 50% showing on the display? If this is the case, you're likely to experience an incorrect battery calibration and thus the battery percentage indicator has become inaccurate. Draining the battery to 0% and charging to 100% is a great way to get the unexpected shut-off problem to resolve itself.
Go to Settings > Battery > Battery Health to view whether the iPhone battery needs to be replaced. The "Maximum Capacity" and "Peak Performance Capability" will tell you whether there's a sign of issue with the battery.
To calibrate iPhone battery to prevent the random shutting down problem on iPhone, simply drain the battery all the way down to 0%, wait three hours to let it totally die, then charge it for a couple of hours even after the your phone shows the battery as 100 percent full. After that, repeat the process and recharge it back to 100%.
Learn more information about shutdown issues and what might be causing iPhone to shut off and totally unresponsive with a black screen and a flashing Apple symbol. Check it under "Preventing unexpected shutdowns" section in: iPhone Battery and Performance – Apple Support
Method 5: Keep iPhone with Acceptable Operating Temperatures
When your iPhone shuts down, do you receive any temperature warning on the screen? It doesn't matter whether the device gets too warm exceeding the normal operating range, or the home button becomes unusually hot even, the iPhone shutting off should typically happens in a way to protect the internal components. Learn about the operating temperatures and temperature management of your iPhone in the following support article: Keeping iPhone, iPad, and iPod touch within acceptable operating temperatures.
If the iPhone is hot and the power drains fast, you need to cool it down, charge it, and restart it as you normally would. If a normal restart doesn't help, do a hard reset.
Method 6: Restore iPhone with DFU Mode
If none of the above solutions work, a DFU restore of iPhone may fix the shut-off issue. This will reset the device to factory settings with a clean iOS installed, and you will lose files unless you have a backup. Here's how
1. Attach iPhone to iTunes on a Mac with macOS 10.14 or earlier, or on a PC. If you're using macOS Catalina 10.15 or above, open Finder.
2. When it's connected, put it into DFU mode. The process varies by iPhone models.
On iPhone 8, X, XS, XR, 11 or newer: Quickly press and release the Volume Up button, then quickly press and release the Volume Down button, and then press and hold the Side button until the screen stays black. Hold down the Side and Volume Down button for 5 seconds, then release the Side button but keep holding the Volume Down button. Now iTunes should show you a message saying it has detected an iPhone in recovery mode.
On iPhone 7, 7 Plus: Press and hold both Sleep/Wake and Volume Down buttons for 10 seconds. Let go Sleep/Wake button while continuing to hold the Volume Down button for 10 seconds until the screen stays black. iTunes should indicate that the iPhone is in DFU mode.
On iPhone 6s, 6, SE, or earlier: Press and hold down both Side button and Home button for 8 seconds. Release the Side button while keeping holding Home button until iTunes says that it has detected an iPhone in recovery mode.
4. Click OK button to close the notification.
5. Hit Restore iPhone to reset the device and reinstall iOS.
6. If you have a backup available, restore it to your iPhone, rather than starting it anew. If inevitably it will shut down again at some point, the last method should be your last resort.
Method 7: Contact Apple
If you have followed all the solutions above, but the iPhone device still shut down over and over, you should make an appointment with Apple to sort it out as suggested. If your brand-new iPhone shut off when you set it up, and it would not respond to a soft/ hard reset to wake up the display, you could go to request a replacement.
Be sure to back up your device before taking or sending it to Apple. You can plug the phone into a Mac or PC mad try to back it up in Finder or iTunes, even though it keeps shutting off and won't turn on.
You might also like
iPhone Is Frozen After iOS Update. What to Do
iPhone Photos Recovery – Easy Guide
How to Get Back Messages on Samsung
How to Fix iPhone XR Not Turning On Issue
What To Do When iPhone Keeps Saying Call Failed
iPad Stuck in Black Screen and Doesn't Respond to Touch
Videos
1. How to make easy peasy reels
2. Shark Tank's Mark Cuban Calls Out THE SLEAZIEST FRAUD!
3. Bringing The Live Launch Full Circle
4. STOP force-closing your apps! Here's why
5. The War On Drugs – I Don't Live Here Anymore (feat. Lucius) [Official Music Video]