California health insurance – – health insurance for family of 4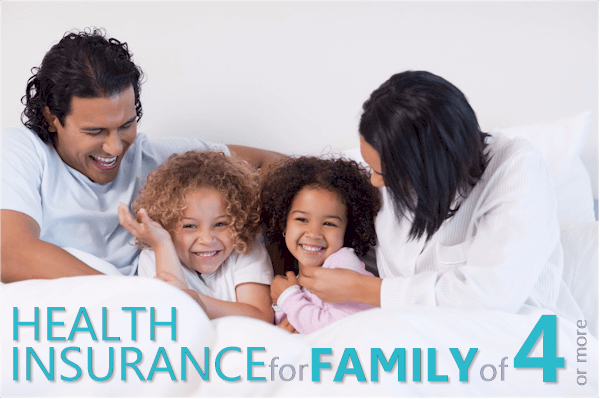 You're busy.
Four people to take care of and now you have to pick a health plan?
The budget is tight with everything else that needs to go out each month for a family of 4.
Let's break down some key ways for families to save that are universal.
Like we said…you're busy.
Let's get started.
You can always run your quote here:
Family of 4 Health Care – What Matters
With a bigger family, there are a few key concerns to address.
How to shop health insurance for a family of 4, 5, or more
First, check your

tax credit eligibility through Quote here

Pick benefit levels for family member planned usage
Make sure all the doctors are in-network
Get Preventative covered at 100% on all plans
Understand exposure for big bills
See if the HSA option works for your family
Compare annual savings for each level up
Let's look at each of these with more detail.
Tax Credit Eligibility for a Family of Four
This is the most important item.
It goes right to the cost of health insurance.
Here's the deal.
Since 2014, there can be big credits based on income.
Income is only one piece of it!
They also look at size of household.
The bigger the family, the higher the threshold in which we can get a tax credit.
With a family of four, we can potentially get a tax credit all the way up to very high levels of household income!
The definition of household is everyone that files tax together on a 1040 tax form.
Married couples need to file jointly to get the credit.
You can run your quote here with the tax credit calculation already included.
Make sure to enter in your income estimate for this year (next April's filing).
More detail oncalculation tax credit income here.
Of course, we're happy to walk through your situation.
There's no cost for our assistance.
Net net…bigger family means bigger tax credits.
Different Health Care Needs For Different Family Members
It's not uncommon.
We'll be on the phone and a parent will say…
"We're all healthy but my child has very expensive healthcare needs"
That's the nature of families.
In a given year, you usually have bigger bills for one person and the rest of the family is fine.
Sometimes, one family member has ongoing medical needs.
How do we address this with health plans?
A few caveats…
If we're eligible for a tax credit (See section above), we can still mix and match plans now in Covered Ca!
For example, you can get the Gold plan for a family member with bigger bills and the Silver for other family members.
We can do this all under one account when youenroll for coverage.
The sweet spot for a person with bigger bills will likely be the Silver level on up.
Use the PlanFinder to really understand the different levels.
If you need a split quote for family members, just email us zip code, dates of birth, and specify who needs richer coverage.
We can price-check the options to see what might work best.
There can be some detective work here but that's what we do every day!
Making sure all your Family Doctors are In-network
This is a big deal since 2014.
The new networks are smaller.
When you run your health quote, you'll notice that there's a link for "Provider Search" under any given plan.
You can check them there or we can research them for you. Justemail doctor names and cities.
It's tricky to get all our doctors in one given network these days.
That's tough.
You may have to decide which are more important.
The pediatrician or the OBGyn.
No one likes to make that decision but we may have to.
Or not..
If we're not getting a tax credit, we can pick different carriers/networks just like we can pick different plan levels.
If we're getting a tax credit, everyone needs to be on the same plan which means the same list of doctors.
PPO's will have a broader list than HMOs. EPO's will have the same network as PPO.
You can get more info onPPO versus HMO hereor EPO versus PPO.
Preventative Benefits for A Family of Four
Finally, some good news.
With the new ACA plans, preventative is covered at 100% in-network.
This takes care of the following generally:
Well-baby check-ups
Well-child check-ups
Immunizations
Annual Routine physicals/labs
Annual ObGyn visit/labs
Age related scans such as Colonoscopies
This is huge!
For a family of four, that can be $1000's/year.
Make sure to take advantage of this benefit.
You need to be in-network to get this benefit and make sure the doctor codes it correctly as preventative.
This benefit is available at EVERY level.
What if multiple family members get big bills
This is important.
What's our exposure if big bills hit for many family members?
First, the plans generally have a 2 family member max.
This means that if two family members (out of four) meet their deductible or max, the other family members do not need to for the calendar year.
Basically, for in-network, you're looking at 2 times the max out of pocket for really big bills to multiple family members.
Some of the HSA plans can be different here.
Depending on the carrier, it may be one big cumulative family deductible.
This means that one family member would satisfy the family deductible.
That's not ideal.
We can help separate which plans do this when you run your quote here:
The HSA option for a family of 4, 5, or more
The HSA starts to look better and better for a larger family.
You can get more information on how they work but here's the top level review:
High deductible plan for family – only preventative is carved out from deductible
You can then fund separate money in tax favored account to pay out of pocket medical dental expense
Money rolls over year to year and interest/investment is tax-deferred
Learn about the HSA plans for families.
It's very popular.
You'll find the HSA plans at the Bronze level when you run your quote.
There will be an "HDHP" in the title (among 2 bronze plans).
Why might this be good for a family of 4, 5, or more?
The HSA benefit is really about cost savings versus potential out of pocket exposure.
With a larger family, the jump in premium at each level goes up quite a bit.
That money than be used to fund the HSA account.
If you have bigger bills, it's a wash.
If you have a good year, you keep the money!
Basically, you're self-insuring the small bills.
Side benefit for larger families…
With two or more people, the amount you can fund into the HSA doubles!
Well over $6K per year now.
That's another benefit for families.
As we mentioned before, it's best to look at an "embedded deductible".
This is where each person has their own single deductible (up to two people in a family).
We can help you understand if the HSA option right for your family.
There's no cost for our services at Certified Covered Ca agents!
Call 800-320-6269 or email us.
You can quote the HSA family plan here:
Comparing Family insurance premium versus exposure
This is really the whole gist of comparing health plans for family coverage.
We created the PlanFinder to provide a tool that will walk you through the process but here's the basic premise.
Run your quote and compare the annual premium difference for the family.
For example, let's say that going from the Bronze plan to the Silver plan for the family will be about $4000 difference in annual premium.
That sounds like a lot but it's roughly $360 month.
Easy to do these days for a larger family of 4 or 5.
What are we giving up?
Well our deductible goes from roughly $7K (HSA plan) to $4000.
So $3500 difference in deductible.
We're also getting copays for office, rx, lab, and x-ray with the Silver.
The question is this…do those benefit enhancements justify $4K in GUARANTEED spending?
Probably not unless we know we'll have lots of those services during the year.
Even then…it would have to bigger stuff since $4K buys a lot of office visits, labs, and medications.
Also, we can fund that $4K in an HSA and get an average 20-30% boost from not having to pay tax.
It's like $5K in that case.
The back end exposure for big plans is roughly the same for Bronze, Silver, and Gold plans.
Even more reason!
This means the 3 levels will treat the big bill the same.
Net net…
Look at going down the scale and saving in monthly premium for larger families.
The bigger the family, the more this makes sense since premium is now per-person.
Health Insurance for Families of 4, 5, and more Review
Hopefully, you've gleaned some tips on how to insure a family.
There are specific plans that work best for that situation.
What to consider when picking coverage :
Tax Credit eligibility
Different health care needs for different family members
Making sure all the doctors are in-network
All the preventative visits getting coverage
What if multiple family members get big bills
The HSA plan option for families
Monthly premium versus benefit difference
Of course, we're happy to walk through any questions you have on family health coverage.
More family members just means more questions!
How can we help!
You can run your
Family of 4 Health Quote

to view rates and plans side by side from the major carriers…Free.

Again, there is absolutely no cost to you for our services. Call 800-320-6269 Today!
Videos
1. Top 5 Health Insurance Plans For Family | Planify
2. Secure the best family health insurance with these 5 great tips
3. STAR WOMEN CARE INSURANCE POLICY | Best Health Insurance for Women
4. Delaware Health & Community Updates by Kemal Erkan
5. Living On $270,000 A Year In Austin, Texas | Millennial Money