Backsplash Cost by Material
Backsplashes1 are a unique area in the home. They have no foot traffic or exposure to moisture. They occasionally see splatters from grease and food substances. You can install nearly any material in the backsplash area, but some materials require stain protection. The amount of cooking you do and the types of foods you cook impact how easy the material is to maintain.
Ceramic tile is one of the most common materials used in this area because it is easy to clean and comes in the widest range of colors, sizes, shapes, and styles. Glass tile is also popular in this area for similar reasons. You can clean it with glass cleaner, and it can be found in multiple colors and styles.
Another very popular way to create a backsplash is to extend your countertop slab up the backsplash area. This is particularly common with quartz because it is the easiest to clean and care for, but it can be done with marble, granite, quartzite, and concrete.
Below are the average costs of each material per square foot for the material and installation for an average 30 sq.ft. backsplash.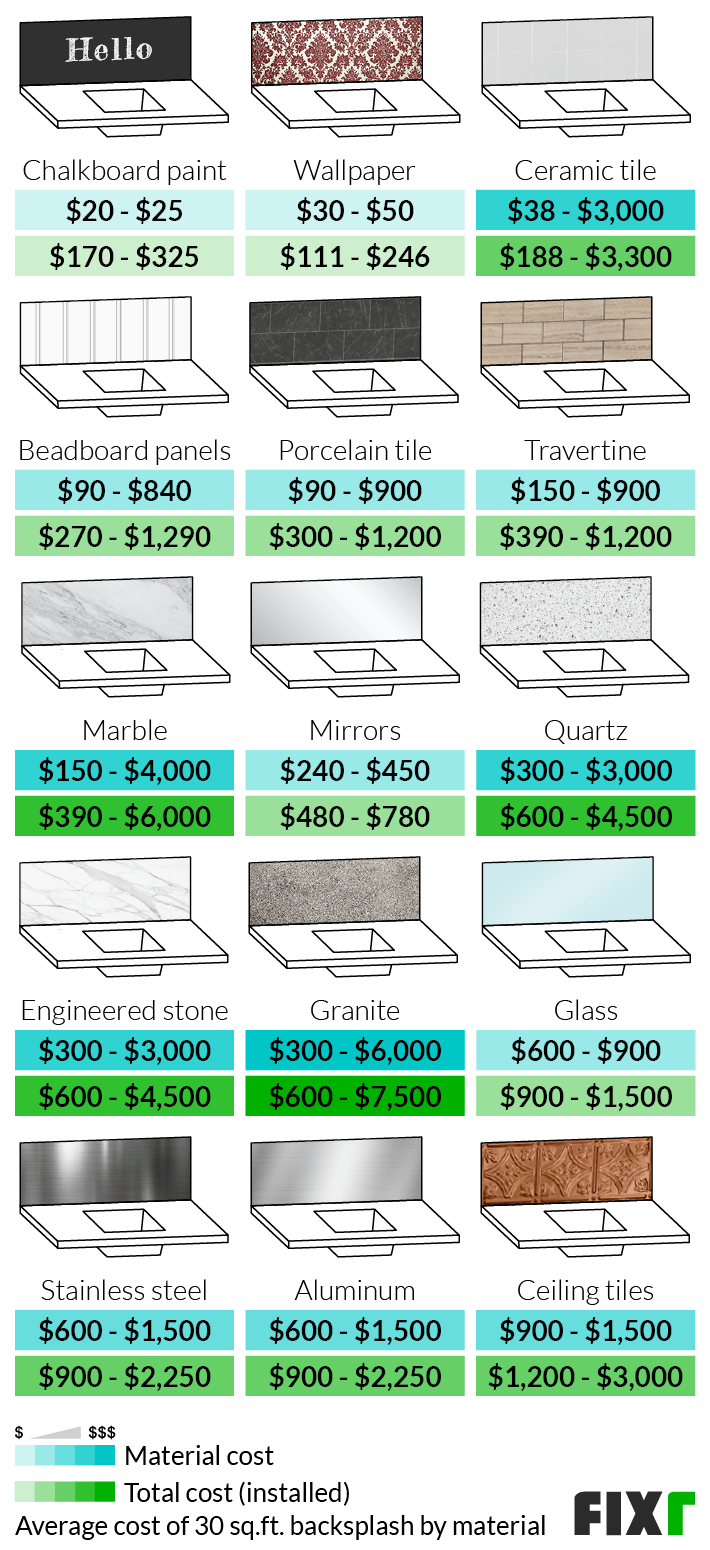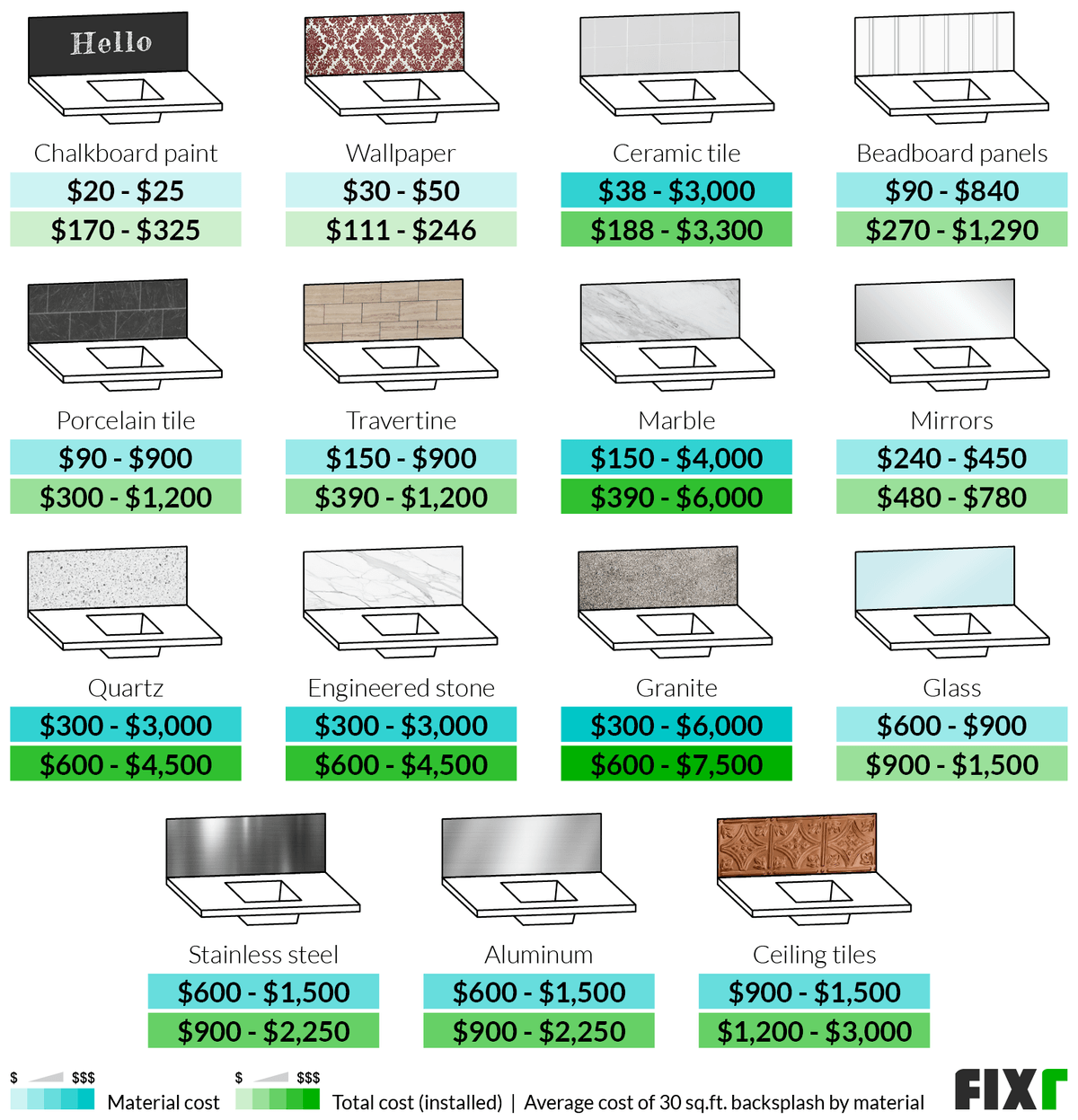 | Type of Material | Backsplash Price for 30 Sq.Ft. (Material Only) | Backsplash Price for 30 Sq.Ft. (Installed) |
| --- | --- | --- |
| Chalkboard Paint | $20 – $25 | $170 – $325 |
| Wallpaper | $30 – $50 | $111 – $246 |
| Ceramic Tile | $38 – $3,000 | $188 – $3,300 |
| Beadboard Panels | $90 – $840 | $270 – $1,290 |
| Porcelain Tile | $90 – $900 | $300 – $1,200 |
| Travertine | $150 – $900 | $390 – $1,200 |
| Marble | $150 – $4,000 | $390 – $6,000 |
| Mirrors | $240 – $450 | $480 – $780 |
| Quartz | $300 – $3,000 | $600 – $4,500 |
| Engineered Stone | $300 – $3,000 | $600 – $4,500 |
| Granite | $300 – $6,000 | $600 – $7,500 |
| Glass | $600 – $900 | $900 – $1,500 |
| Stainless Steel | $600 – $1,500 | $900 – $2,250 |
| Aluminum | $600 – $1,500 | $900 – $2,250 |
| Ceiling Tiles | $900 – $1,500 | $1,200 – $3,000 |
Chalkboard Backsplash
The cost of having a chalkboard backsplash professionally painted is $170 to $325. The cost of the paint is $20 to $25 for a gallon. If you like constantly decorating and drawing on your backsplash, create a chalkboard wall. Chalkboard backsplashes are made by applying chalkboard paint to the wall. This dark paint is easy to clean and allows you to write on your walls. However, painting your entire backsplash black like this can make your kitchen appear dark.
Kitchen Backsplash Wallpaper
Professionally wallpapering your backsplash averages $111 to $246. The cost of the wallpaper ranges from $30 to $50. If you like the idea of having color, pattern, and texture on your backsplash, but do not want tile, wallpaper makes an excellent choice. Wallpaper for use on a backsplash is often made of thicker material that can be wiped down. This makes it easier to clean and care for and gives you the many patterns of wallpaper. Do not use wallpaper meant for other parts of the home because it could be damaged.
Ceramic Tile Backsplash Cost
The cost of a ceramic tile backsplash installed ranges from $188 to $3,300. The cost of the tiles average $38 to $3,000, depending on the type and style. Ceramic tiles are commonly used for creating a kitchen backsplash. Ceramic is a tile made of wet clay that is fired and glazed. They come in a wide range of colors, patterns, and sizes and are easy to take care of. They can be machine-made or handmade and give your kitchen many looks. Handmade ceramic tiles need wider grout joints than others, which makes them harder to care for.
Beadboard Backsplash Cost
The cost of a beadboard backsplash averages $270 to $1,290 installed. The cost of the materials averages $90 to $840. While beadboard is most commonly used in bathrooms, mudrooms, and ceilings, it gets some use on backsplashes. Beadboard is made up of thin strips of wood or beads placed over the edges of wider boards. It can be found in many types of wood and even some plastics and vinyls2 today, making them easier to clean. Beadboard can be wood-toned but is usually painted white.
Porcelain Tile Backsplash Cost
The cost of an installed porcelain tile backsplash is $300 to $1,200. The cost of the material is $90 to $900. Porcelain is less common on kitchen backsplashes than other materials. This tile is made of compressed clay dust that has been fired to very high temperatures. Porcelain is scratch-resistant, stain-resistant, and crack-resistant and lasts years without any care. Porcelain does not come in as many colors, sizes, or patterns as ceramic, so it is not frequently used.
Travertine Backsplash Cost
The cost of a travertine backsplash averages $390 to $1,200. The cost of the material alone is $150 to $900. Travertine is a unique type of limestone3 – a natural stone material made mostly of calcite. Travertine is formed deep inside a hot spring. Escaping water vapor forms long tunnels and holes in the cooling stone, and these holes are visible on the surface of the travertine. Travertine tile can be filled or unfilled – meaning the holes may be visible or filled with a compound. Travertine comes in several colors and finishes, all ideal for the kitchen.
Marble Backsplash Cost
The cost of a marble backsplash ranges from $390 for a tile backsplash to $6,000 for a solid marble slab backsplash. The cost of the material averages $150 to $4,000. Marble is a metamorphic stone made mostly of calcite. Marble is compressed limestone but is harder and more durable. Marble comes in many colors, patterns, and sizes for backsplashes. Marble requires much care on the backsplash because it stains, but it lasts for years with proper sealing.
Mirror Backsplash Cost
The cost of a mirror backsplash is $480 to $780 installed. The cost of the materials averages $240 to $450. If you have a small or dark kitchen, use a mirror backsplash to look bigger and brighter. Mirrored backsplashes can be made of one large mirror or many mirrored tiles. Mirrors reflect light and their surroundings, making the kitchen seem larger. They are hard to keep clean in this area and require frequent cleaning.
Quartz Backsplash Cost
The cost of an installed quartz backsplash averages between $600 for a quartz tile backsplash and $4,500 for a slab backsplash that matches your countertop. The material ranges from $300 to $3,000. Quartz is a man-made material composed of roughly 90% quartz rock and 10% pigments and resins. It is stain-resistant and much easier to care for than natural stone. It comes in tiles or slabs and is much easier to match than granite. Quartz has fewer colors and sizes than other materials, but they work well in modern kitchens.
Engineered Stone Backsplash
The cost of an installed engineered stone backsplash averages between $600 for a tile backsplash and $4,500 for a slab backsplash that matches your countertop. The material ranges from $300 to $3,000. Engineered stone and quartz are the same material. This is a mixture of pigments, resins, and quartz, which is one of the hardest natural materials used in home surfaces. The resins make the engineered stone more consistent than natural stone and resistant to staining, cracking, and scratching. It comes in several colors and styles, mostly in slab but some tiles as well.
Granite Backsplash Cost
The cost of a granite backsplash averages between $600 for tiles and $7,500 for a granite slab backsplash. The cost of the materials ranges from $300 to $6,000. Granite tiles are a less common choice for backsplashes than other natural stones. This is because it is difficult to match a granite tile with a granite slab. You can use a granite slab on your backsplash, but this is expensive and much thicker than tile, requiring special extenders for your outlet boxes.
Glass Backsplash Cost
The cost of a glass backsplash installed averages $900 to $1,500. The cost of the glass tiles alone ranges from $600 to $900. Glass backsplashes are another solution for dark or small kitchens. Like mirrors, glass tiles reflect a lot of light, helping dark and small kitchens seem bigger and brighter. Glass tiles come in multiple colors, styles, and sizes. You can opt for handmade glass for a traditional look or sleek, color-backed glass for a contemporary appearance. Glass tile is easy to clean, but it is difficult and expensive to install.
Stainless Steel Backsplash Cost
The cost of a stainless steel backsplash averages $900 to $2,250 installed. The cost of the material ranges from $600 to $1,500. If you have a modern or contemporary kitchen, stainless steel makes a great statement on the backsplash. Stainless steel backsplashes are easy to clean and care for and have a dramatic appearance. They can be made of solid sheets of steel or tiles in several shapes, sizes, and patterns. An abundance of stainless can make the kitchen seem cold and sterile, so this is best as an accent material.
Aluminum Backsplash
The cost of an aluminum backsplash averages $900 to $2,250 installed. The cost of the material alone is $600 to $1,500. Aluminum is another choice that makes an interesting and contemporary backsplash. There are many aluminum tiles, including unique mosaics that come in different shapes and sizes. However, aluminum backsplashes can melt easily. It should not be used behind a cooktop or in another hot area.
Ceiling Tile Backsplash
The cost of creating an installed backsplash using ceiling tiles averages $1,200 to $3,000. The cost of the ceiling tiles averages $900 to $1,500. If you are a fan of repeating embossed patterns, ceiling tiles can make very interesting backsplashes. Ceiling tiles come in sizes starting at 6-inches square and going up to 18-inches or 24-inches square. They come in many materials and colors, including some you can paint. They create intricate and repeating patterns on backsplashes that are very dramatic, but they are hard to keep clean.
Compare prices from backsplash installers near me
Backplash Installation Shapes
While you can use nearly any material, most materials are sold in a tile form, including ceramic, porcelain, natural and engineered stone, metal, glass, mirrors, and ceiling tiles. Many of these materials are available in different shapes and sizes, which you can mix and match to create different patterns. The shape of a tile does not have any impact on the cost of the tile. Materials and the tile size have the most impact, but shape can play a role in your kitchen's appearance. New waterjet technology can have some materials carved into any shape, but most materials are available in a set range.
The shape of the tiles you choose will likely be determined by the style you are going for. Square tiles are usually the most subtle on their own, but you can use different colors to create a patchwork design as well. Rectangular tiles – sometimes known as subway tiles – are among the most popular, particularly in farmhouse and cottage-style kitchens. To dress up the kitchen, you can turn the tiles to create a herringbone pattern.
Other shapes can be used to create specific looks, such as using round tiles in a whimsical design or mosaics in diamond and fan patterns to capture modern or traditional looks. Any tile shape can be used in a various ways to help you create a unique look that suits your home.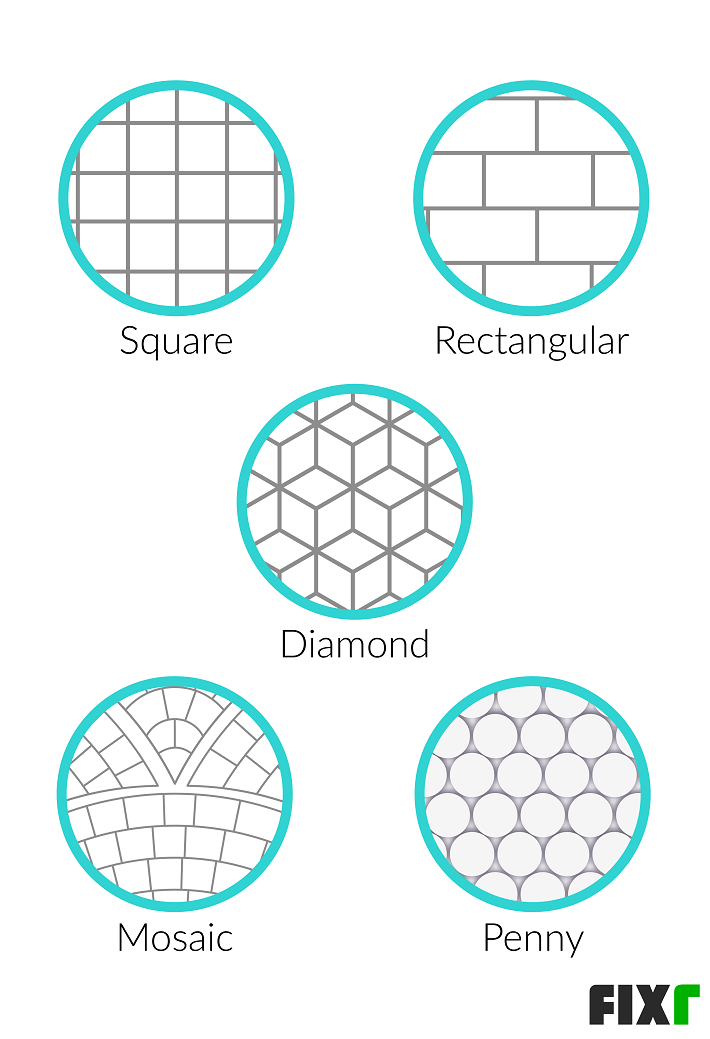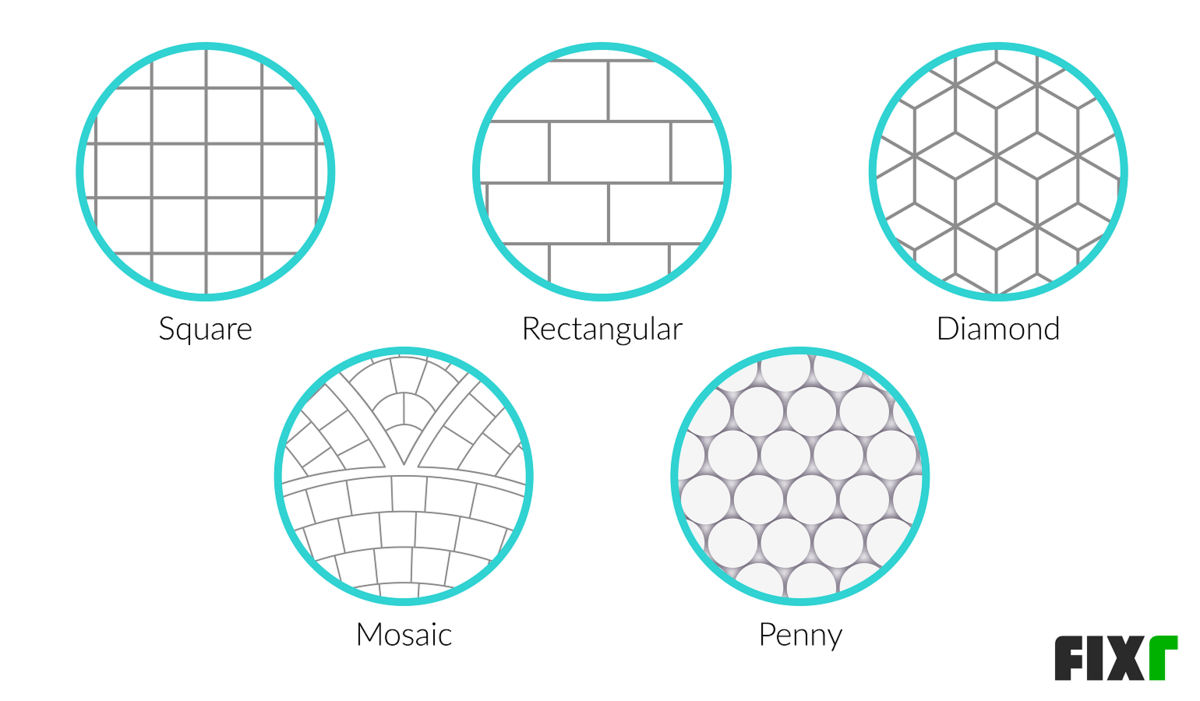 Backsplash Installation Patterns
It is common to install tile or other materials on your backsplash in a pattern. Any pattern other than a straight-set tile increases the project's costs by between 10 and 20%, due to the extra material needed and the time to cut and lay.
Common tile patterns include straight and off-set tiles. These are the most common and easiest to install. You can off-set tiles of any shape. While the rectangular off-set tile is the most common, you can also off-set square tiles. You can also stack rectangular tiles both horizontally and vertically, rather than off-setting them to change the look.
For more decorative backsplashes, both diagonal and herringbone patterns are common. These both involve taking the tile and rotating it at an angle – so these patterns tend to be more costly than straight due to the number of cuts necessary.
If you want to use two different tiles, you can mix them in the same shape and size within one pattern or choose a pattern that combines two different sizes, such as a step or cut-corner pattern. Both of these can mix materials and colors as well as sizes to give you a more in-depth appearance to your installation.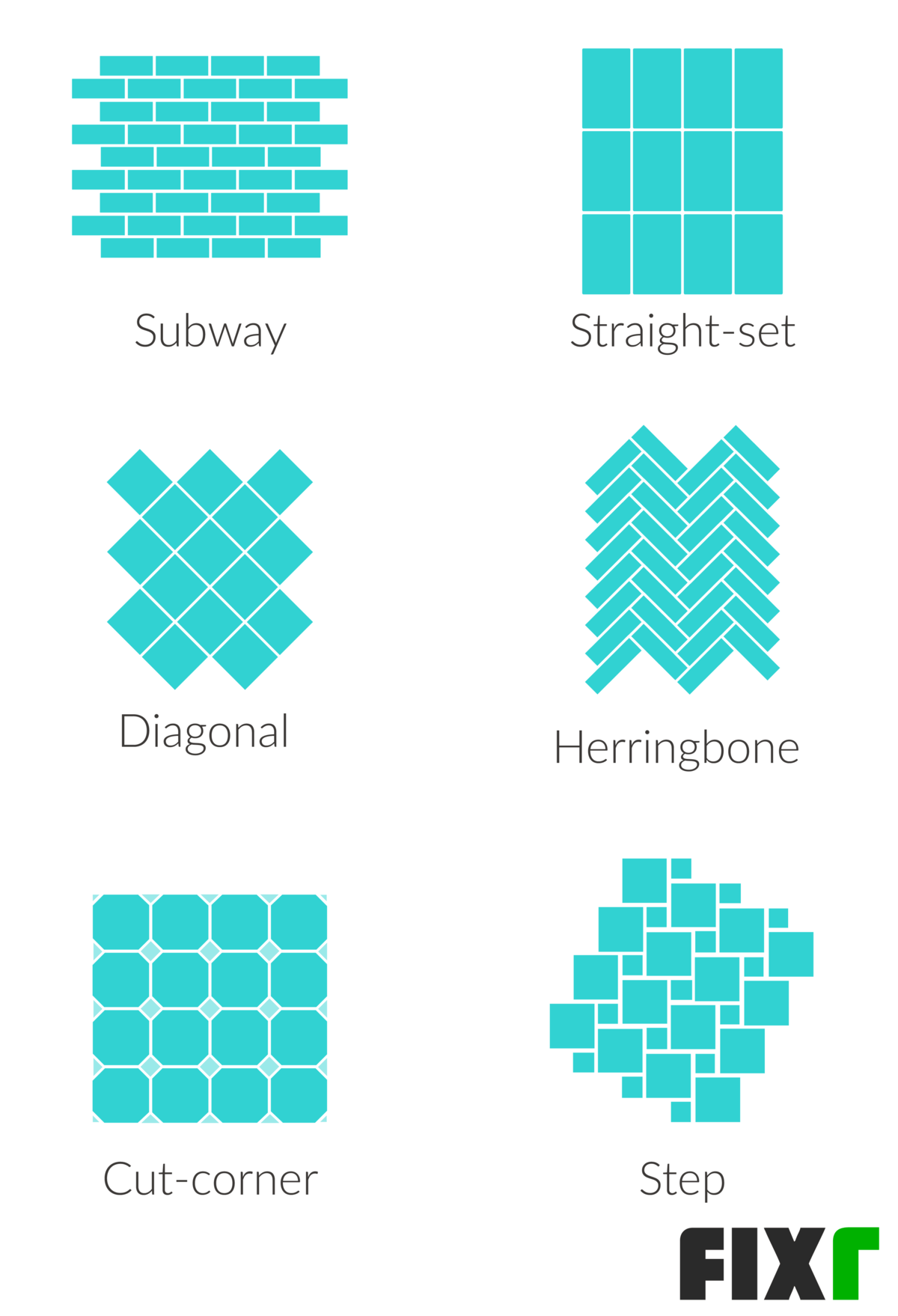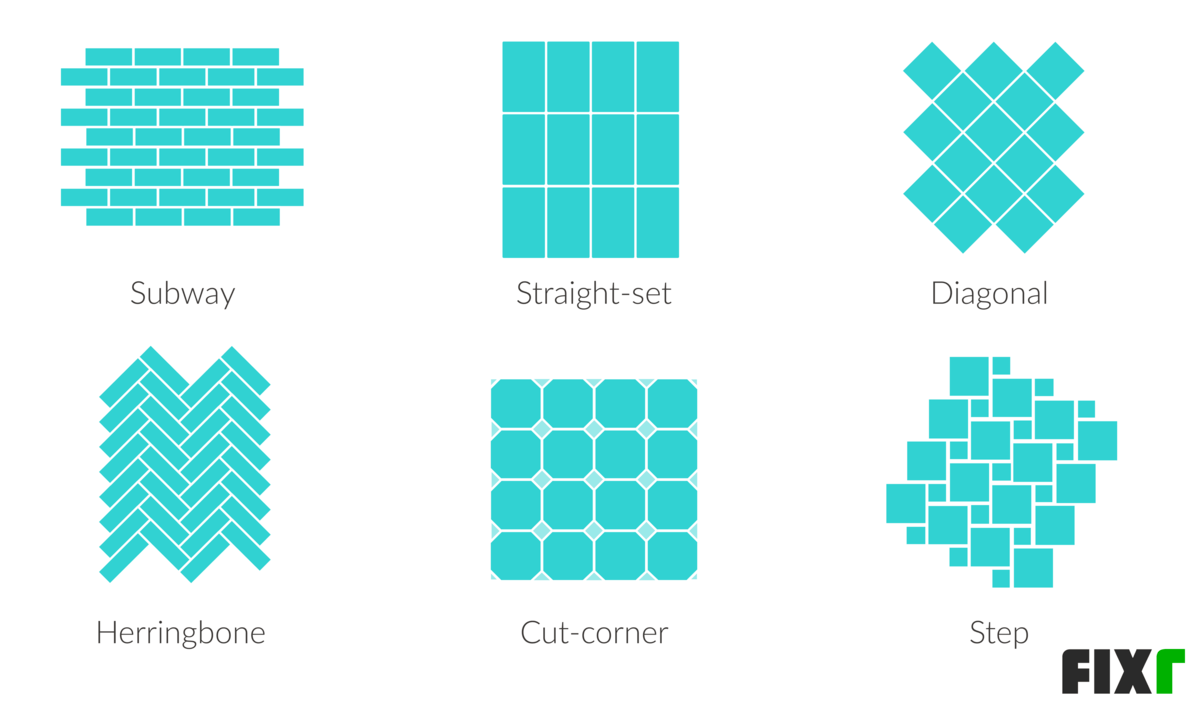 The labor cost of installing a backsplash varies depending on the material, shape, size, and the backsplash area's condition. Installation costs start at around $5 a sq.ft. for simple materials like ceramic tile and can approach $30 a sq.ft. for more intensive work, such as installing a slab backsplash. Most people find that they pay close to $10 a sq.ft. in labor for most installations, but this varies depending on the material, thickness, and pattern.
Below are the average costs to install a 30 sq.ft. backsplash with some of the more common materials.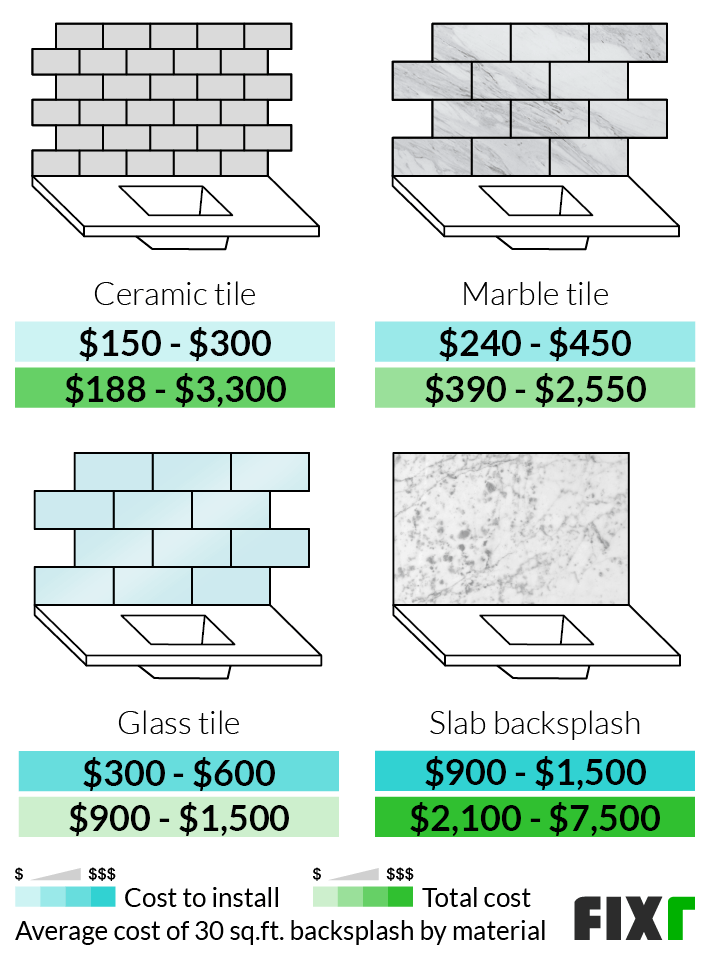 | Material | Average Costs to Install | Average Total Costs |
| --- | --- | --- |
| Ceramic Tile | $150 – $300 | $188 – $3,300 |
| Marble Tile | $240 – $450 | $390 – $2,550 |
| Glass Tile | $300 – $600 | $900 – $1,500 |
| Slab Backsplash | $900 – $1,500 | $2,100 – $7,500 |
Your backsplash installation will vary depending on whether you use tiles or solid materials like slabs or steel. Tile is the least expensive to install, but it takes the most time for the installation. The space is measured, and a dry layout is done nearby. The tiles are placed in an area of the same shape and size to determine the proper layout and make cuts. Cuts are made to fit the tiles or other material to the backsplash and any outlets.
For installation, the most common method of completing the space is to spread a small amount of mortar4 on the wall. Then, the tiles are set in a predetermined pattern. After tiling, the mortar cures for 24 hours, and the backsplash is grouted5 and requires another 24 hours to cure. If the material is crackled ceramic or natural stone, it must be sealed before grouting.
For a 30-square-foot backsplash, the entire process takes just a few hours for installation and another one to two hours the next day for grouting.
For slab installations, this is done at the same time as your countertop. A template of your backsplash area will be taken at the same time as the counter area. The slab is fabricated to fit, complete with cutouts for electrical outlets. For the installation, outlet extenders are placed in the walls, and adhesive is applied to the installation area. The slabs are fitted into place, and epoxy is used in any seams to seal them. The fabrication process can take 2 to 3 weeks, but the actual install can often be done in under an hour.
Cost to Install a Subway Tile Backsplash
Subway tiles are one of the most common types of backsplash installations. This is a rectangular tile, most commonly measuring 3" x 6". The material cost for this installation ranges from $250 to $900, depending on the material type and how it was made. Subway tile can be ceramic, glass, or stone and comes in many colors and finishes. The installation averages $150 to $300, making the total cost $400 to $1,200 fully installed. If you choose to turn your subway tile into a herringbone pattern to create a focal area behind the cooktop or include any decorative borders in the design, your costs could be higher.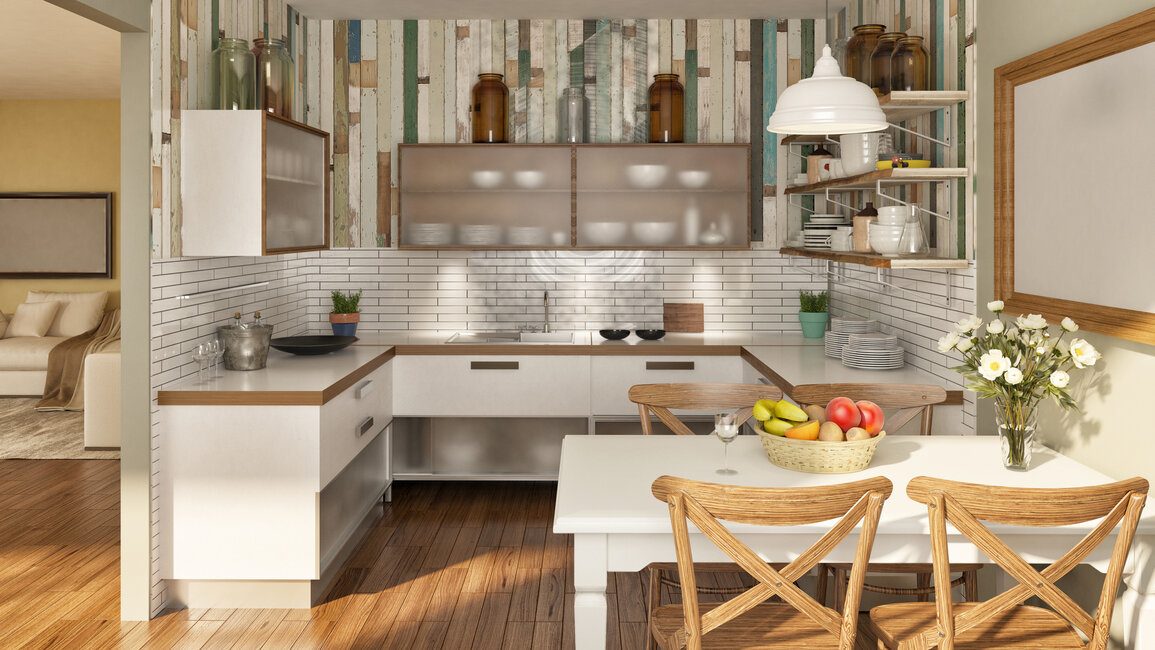 Cost to Replace a Backsplash
A kitchen backsplash is easy to replace on its own or during a larger kitchen renovation. If the original tile was installed correctly, it can be gently pried off the wall with little to no damage. This adds roughly $1 to $3 a square foot to your total costs.
If care was not taken when removing the old tile, you may need new drywall6 before the new tile can be put up. In this case, expect an additional $3 a sq.ft. to install new drywall. This is not common because even minor damage can generally be covered by the new backsplash material without issue.
This makes the average cost of replacing a 30 sq.ft. kitchen backsplash $990 to $2,670, depending on the material and design.
Typical Backsplash Height
The most common backsplash height is 18 inches from the top of the countertop to the bottom of the cabinet's underside. This amount of space holds 6 rows of 3×6 tiles, 4 full rows plus a 2-inch border of 4-inch tiles, 1 row of 18-inch tiles, 1½ rows of 12×12, or 12×24-inch tiles, or 6 rows of 3-inch tiles. It is very common to mix tile sizes to fill the space, creating a unique pattern.
Older kitchens with shorter upper cabinets as well as countertops with an integral backsplash usually have a backsplash area of 14 to 15 inches.
Get free estimates from trusted backsplash installation companies near me
Backsplash Material Comparison
Sometimes it's possible to get the look you want for your kitchen by using two or three different materials. If this is the case, then you may be wondering how to decide between them. Cost is one factor, but there are other things you should be considering as well, such as maintenance, how easy or difficult they are to install and how well they resist staining in the average kitchen. We've scored the most popular backsplash materials below – ceramic, quartz slabs, glass, and marble – on each of these criteria so you can see how they stack up against one another.
Maintenance
The maintenance of your backsplash depends on the material, how often you cook, and what types of foods you cook. Ceramic, quartz, and glass are the easiest to maintain, but depending on how much grout you have, you may want to seal it to prevent staining. All ceramic tiles may craze over time. This is a crackling of the glaze on the tile surface. It is not a defect but something that can happen with ceramic, particularly when installed on outside walls above heat sources like stoves. The stress of heating and cooling rapidly can cause the glaze to craze or crack. If this happens, seal the ceramic to help prevent staining. Otherwise, wiping the backsplash with soap and water is sufficient.
For natural stone like marble, seal the material to prevent staining. Even then, you should wipe off splashes of acidic material like tomato sauce quickly to prevent etching of the surface. Always wash your backsplash with a cleaner made for the specific material, such as a stone cleaner. Quartz slabs need the least maintenance because they do not require sealing or have grout lines to deal with.
We ranked the most popular materials below from low to high regarding maintenance.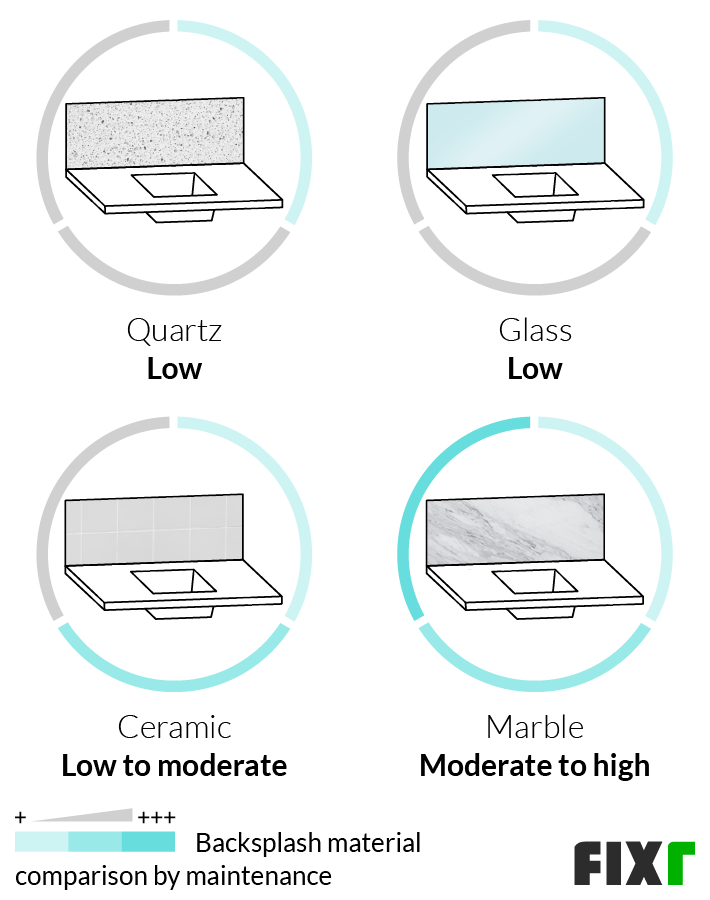 | Material | Maintenance |
| --- | --- |
| Quartz | Low |
| Glass | Low |
| Ceramic | Low to Moderate |
| Marble | Moderate to High |
Ease of Installation
Some materials are easier to install in the backsplash area than others. This is true even if you are hiring a professional for the install. Some materials like ceramic tiles go up quickly and easily. Materials like marble can install fairly easily, but they may require more attention to the veining and color to ensure good blending. And, they require sealing prior to grouting, which can make the installation slightly more labor-intensive.
Materials like glass can be very difficult to install. Some chip if you do not use the correct methods and tools to cut them. Many show marks in the mortar if you do not smooth them out properly, and the correct mortar needs to be used to ensure the best color and that the tiles do not crack over time.
Slab materials like quartz are not particularly difficult to install, but the fabricator must install them. They require at least two people working together to get them into place and sometimes three people, depending on the slab size. This can make the installation more costly, even though it takes less time overall.
Below are the most popular materials ranked from easy to difficult in terms of their installation.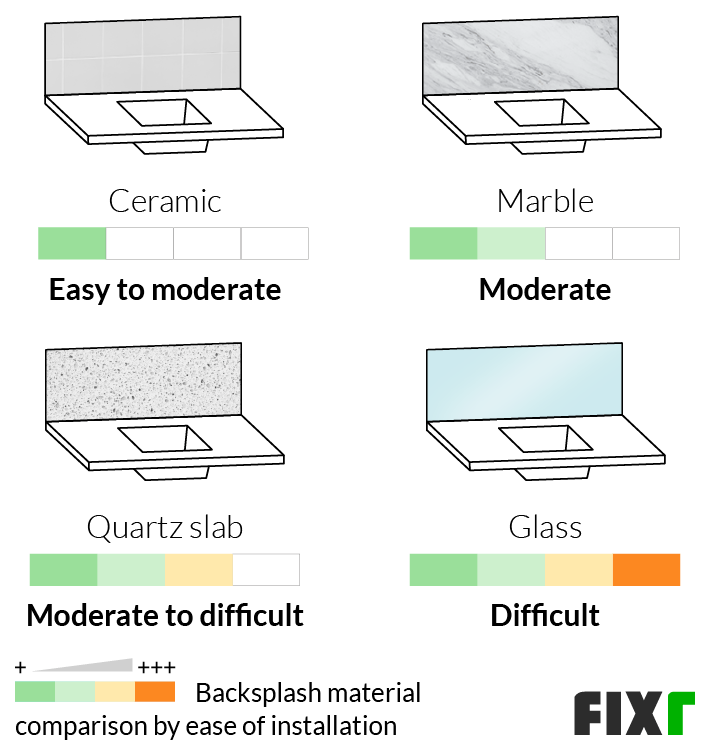 | Material | Ease of Installation |
| --- | --- |
| Ceramic | Easy to Moderate |
| Marble | Moderate |
| Quartz Slab | Moderate to Difficult |
| Glass | Difficult |
Resistance to Stains
While the backsplash is not considered an area that sees any traffic or daily water, it can be splattered by things you cut and cook nearby. If this happens, ensure you can clean the material easily, without worrying about it staining. Some materials like quartz and glass are very stain-resistant and easy to clean. Others, such as marble, can easily stain if you do not seal them often and wipe up splatters as they happen. Ceramic tile is generally resistant to stains. However, if the glaze crackles or crazes, it can stain if not sealed. The grout used in any tile can stain if not sealed. Some ceramic tiles with a textured matte finish may also stain or may be more difficult to care for if not sealed.
Below are popular materials ranked for stain resistance from high to low.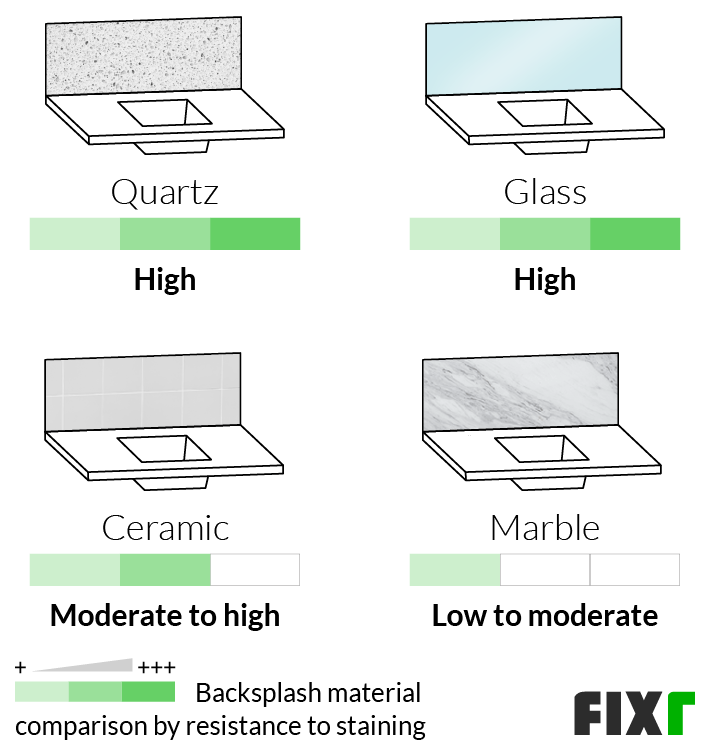 | Material | Resistance to Staining |
| --- | --- |
| Quartz | High |
| Glass | High |
| Ceramic | Moderate to High |
| Marble | Low to Moderate |
Extending Countertops Up the Wall
Most countertops have the option of a small, integral backsplash of about 3 to 4 inches tall. However, you can have your countertop extended to cover the entire backsplash area. This is known as a slab backsplash, and it is very popular in some areas. Slab backsplashes can give your kitchen a very cohesive and uniform look. They also have the appearance of luxury, particularly when using a material like marble or quartz with a lot of veining and movement. You will pay the same amount per square foot for this installation as you will for your countertop. Most backsplashes and countertops are both roughly 30 sq.ft. in size, meaning you can expect to double the cost of your countertop if you choose to extend it up the wall. The average slab countertop installation costs between $2,100 and $7,500. When using a natural material, ensure your slabs for the countertop and the backsplash are from the same lot. Otherwise, there could be color differences between them. This is less of an issue for manmade materials like quartz.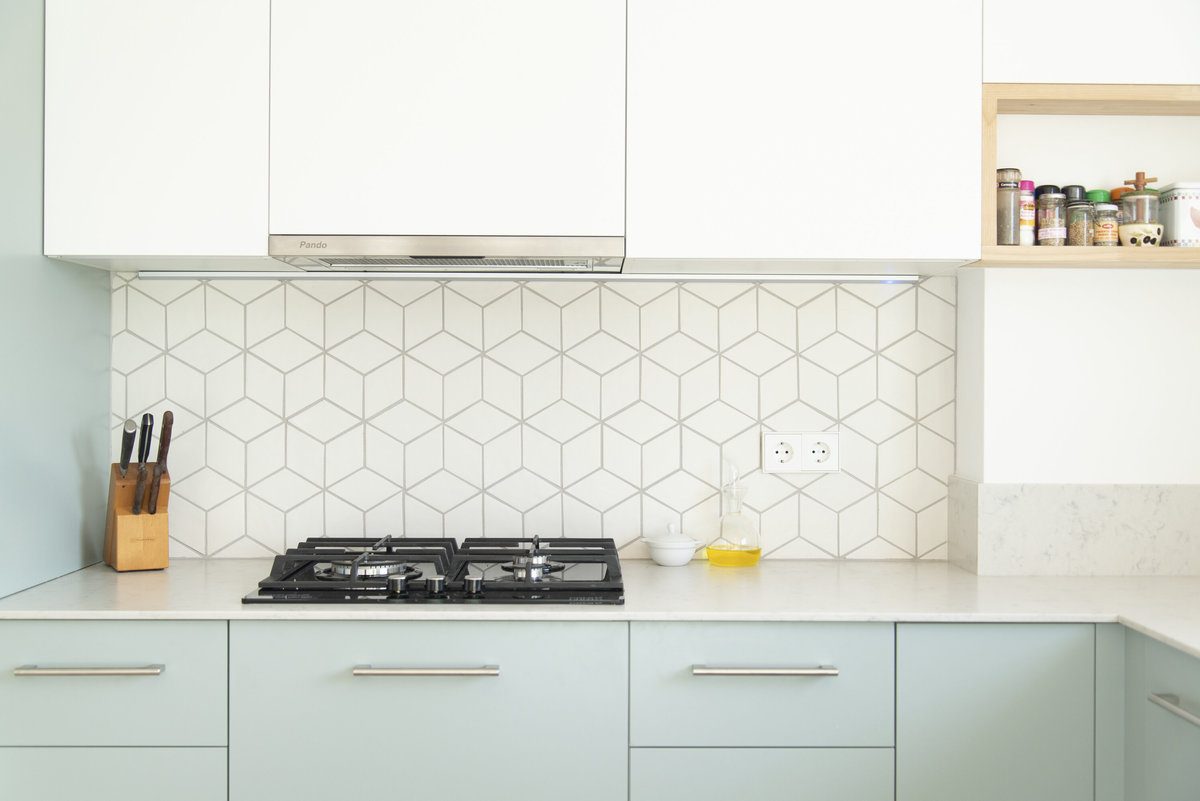 Pros and Cons
There are many great reasons to add a backsplash to your kitchen. Backsplashes add to the personality, color, and style of the kitchen. They can cement your theme or boost the overall look and style of the space. They are easy to change out and update, so they can take a classic kitchen style and give it a fresh look. They can pick up colors from the countertop, show off personal tastes or interests, and feature materials that maximize light in the room, such as glass.
Most backsplash materials are easy-to-clean, easier than keeping a painted surface clean. Glass, ceramic, porcelain, and some metal backsplashes are easy to wipe clean of most substances.
However, some backsplash materials, including natural stone, wallpaper, wood, and paint require maintenance. Stone must be sealed to prevent staining, while wallpaper or paint may be damaged by too much scrubbing. Depending on the material, you may also find that your backsplash can make it harder to change the style of the kitchen without removing it. While some styles let you change the colors of the walls and the type of cabinet pulls to give a quick update, other backsplash styles leave you committed until you take the time and money to replace them.
Backsplashes are also not entirely necessary for a kitchen. Therefore, choosing the wrong style or color can actually be worse for the style and look of the space than not installing a backsplash to begin with.
Bathroom vs Kitchen Backsplash
Backsplashes in the bathroom may not get the same attention as they do in the kitchen, but they add some interest to your sink area. Their function in the bathroom is the same as in the kitchen – to protect the wall behind it, make it easier to keep clean, and add color and interest. There are many ways to make a bathroom backsplash, including many of the same methods and materials used in a kitchen. The biggest difference is the lack of space in the bathroom to work with. Some people install a single row of tile or strip of border tile behind the sink to protect the wall. Other people tile the entire wall behind the sink, framing the mirror in tile. This is very different from filling that roughly 18" space between the countertops and cabinets in a kitchen. Therefore, the average bathroom backsplash can cost considerably less than the average kitchen backsplash, even when using the same materials. Below are the average costs to install a backsplash in the two spaces.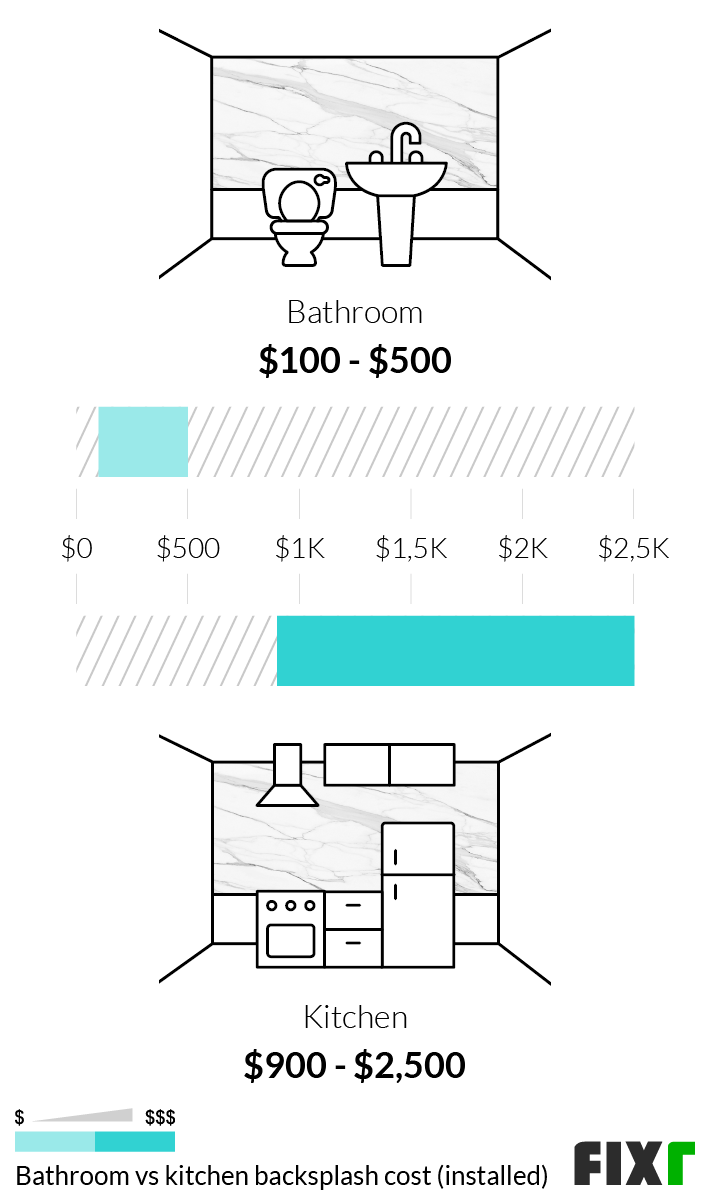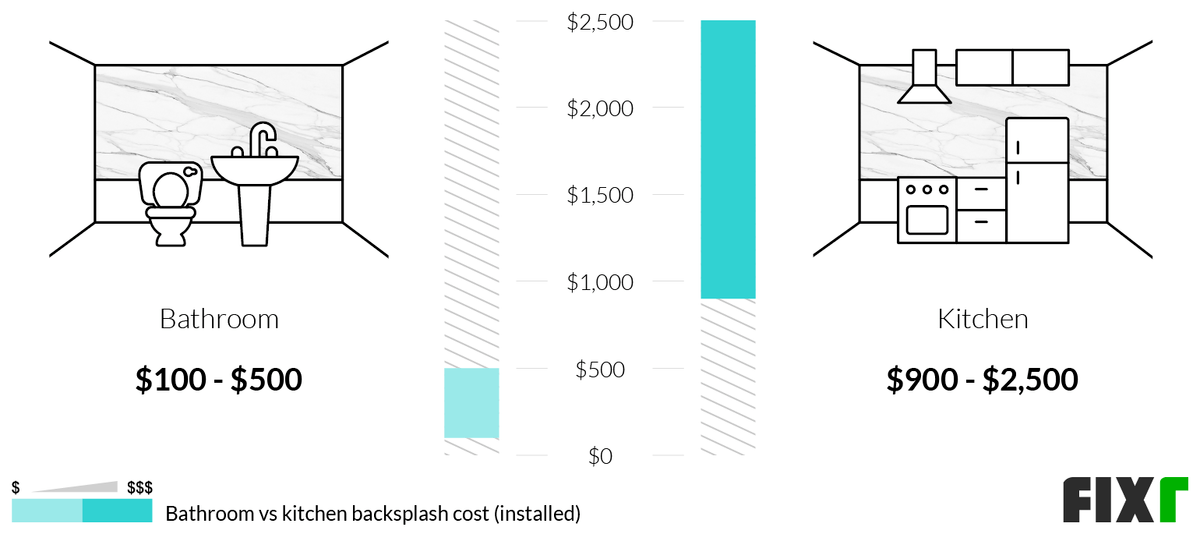 | Area | Average Costs (Installed) |
| --- | --- |
| Bathroom | $100 – $500 |
| Kitchen | $900 – $2,500 |
Find top-rated backsplash installers near me
Enhancement and Improvement Costs
Replacing the Countertops
It is common to switch out your backsplash when you replace your countertops. This is because the old backsplash will likely be damaged when the countertop is removed. If this is the case, expect to pay $1,500 to $4,500 for a new countertop, in addition to your new backsplash costs.
LED Backsplash Cost
If you want to light up your kitchen, you can create a unique LED backsplash. This is typically done with matts that are embedded with hundreds of tiny lights. Some materials made of glass or resin can also be installed with lights behind them. These backsplashes cost an average of $3,000 to $6,000 for a 30 sq.ft. installation and require an electrician to wire them to a GFCI outlet.
Additional Considerations and Costs
Removal. Removing an old backsplash to install a new one is a simple job that costs around $1 to $3 per square foot.
Color and pattern. Using a contrasting color or pattern to the rest of the space in your backsplash creates a focal point in the kitchen that improves the space's aesthetics.
Avoiding damage. When you decide to replace the backsplash, the old one must be removed carefully to avoid wall damage before the new one can be installed.
DIY installation. Many tile backsplashes can be easily installed DIY, including ceramic and porcelain tiles. Ceramic tile can be cut with a score-and-snap tool, so no major equipment is required, while porcelain and stone require a tile saw. Avoid installing glass or mosaic tiles yourself because these often require specialty equipment and knowledge.
FAQs
What is the best material for a kitchen backsplash?
There is no one best material for the kitchen backsplash. Popular backsplash materials include ceramic tile, marble tile, glass, and using your slab countertop material extended up the wall.
How much does a new backsplash and countertop cost?
Altogether, the cost of a new backsplash and countertop will run between $3,000 and $7,000, depending on the materials you choose for both. However, it is possible to spend less or more based on the kitchen size and materials.
How long does it take to install a kitchen backsplash?
Most backsplashes can be installed within a few hours, but any grouting must be done the next day. Therefore, expect the entire project to take roughly 2 days from start to finish.
How high should a kitchen backsplash be?
The average height of a kitchen backsplash is around 18 inches. However, you ideally want it to fill the space between the countertops and the cabinets above, regardless of the height. Some homes may be 14", 15", or 20".
How thick should a backsplash tile be?
The standard thickness for most tile is ⅜ of an inch, but a backsplash may be up to 1-inch thick without compromising counter space. If you use a thicker material for the backsplash, you will need an outlet expander to ensure your outlet covers can be installed.
Do you put a backsplash behind a stove?
Many people do, but you do not have to. If you have a range hood, you have a much bigger area for a backsplash here than along the rest of the counters. For that reason, this is a great place to install something decorative that can become a focal point in the kitchen. In addition, this area is the place most likely to benefit from having an easy-to-clean surface because splatters from the stove are more common.
Videos
1. Mosaic stone backsplash install cost
2. How much to charge for a backsplash project.
3. How to Install a Subway Backsplash Tile!! Everything You Need to Know In One Video!!! DIY
4. How to Install a Simple Tile Backsplash | Ask This Old House
5. How to Figure Cost Per Square Foot for Installing Tile : Flooring Projects